Hershey High School's first female principal holds more than one title
From principal to mom, Lindsey Schmidt strives to perform at her best in all her roles.
Schmidt became the Hershey High School Principal in the midst of the pandemic.  Inspired by feminist leaders, Schmidt is proud to be HHS's first female principal.  Despite balancing family and work, Schmidt relishes her ability to positively impact young people.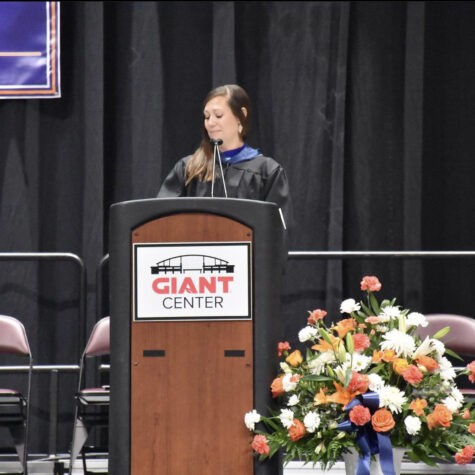 In her early life, Schmidt moved around a lot. She was born in Montana and later moved to Lancaster during elementary school. She then graduated from Hempfield High School.
During Schmidt's high school years, she participated in sports like soccer and field hockey. If it weren't for an unfortunate car accident, Schmidt would have continued playing soccer in college. She still enjoys watching sports and some of her favorite teams include the Eagles, Red Sox, and the US women's national team for soccer.
Growing up, Schmidt looked up to her grandfather who was a decorated veteran and a father to four girls. She also looked up to women like Michelle Obama and RBG. 
"I look up to people who make it a priority to make places better for all," said Schmidt.
Since attaining her role as principal, Schmidt has set goals for the Hershey High School community. Just like her idols, Schmidt wants students to be "connected to some sort of group and feel that the time they spend here is worth it. I want our community to sense care from our staff and myself included."   
For her first year as principal Schmidt has worked very hard to create an inclusive environment for the Hershey High School community. Community periods have been a step in "breaking the barriers" between students and teachers.
Schmidt takes her role as principal with care, especially since she is the first woman to serve as principal at Hershey High School. "It's about time, " Schmidt said.
This new role has made Schmidt's days busier. She states one of the hardest parts of the job is finding balance between work and home. A priority of hers is for students to know she cares for their activities, but attending to her kid's care is also important.
During her free time, Schmidt is often with family. She attends football games supporting her daughter who is in a competitive marching band. She also tries to give her three year old daughter new experiences. For her personal downtime, Schmidt enjoys working out and cooking.
At the end of her career, Schmidt would want students to look back and know that she cared for them. 
"Don't be afraid to use your voice and don't be afraid to take risks," Schmidt said, "Don't look back at these four years and regret not taking a risk."