HHS senior Brooke Preputnick commits to running at Division I U. of Mississippi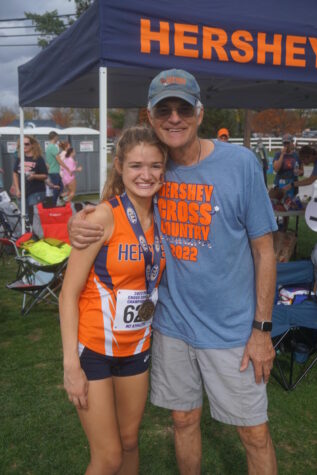 Hershey High School senior Brooke Preputnick committed to University of Mississippi to continue her academic and athletic career to run Division 1 cross country and track and field on November 11th 2022.
Preputnick has been running for Hershey since middle school, but said she never expected to run in college. She participated in the activity to enjoy time outdoors with friends, never excelling until she entered high school.
Preputnick's sophomore year she officially fell in love with the sport.  She became determined to become faster every year with hope to have the opportunity to run in college.
This year especially, she put a lot of pressure on herself and pushed herself to be the best on the course. "None of my coaches or teammates would be disappointed in me if I didn't win, but I would be disappointed in myself," Preputnick said.
Having to balance races and school would be very overwhelming to any high school student. "There definitely have been times where I wanted to give up, luckily I have the best support system around me." Preputnick said.
Brooke said she uses running as an escape from reality. Running at the Division I level is a dream turn reality for Preputnick.
When it came to deciding on a school Brooke was torn between three, Penn State University, Virginia Tech, and University of Mississippi.
At the end of the day, it was down to the team's environment and the coaches. I didn't care about choosing the most well known school. I just wanted to choose a school that could feel like a second home." Preputnick said  "Ole Miss was the perfect fit for me."
"I will always want to get better. Growing not just as an athlete but as a person as well." Brooke said.