Junior Angel Cabrera leads HHS football by example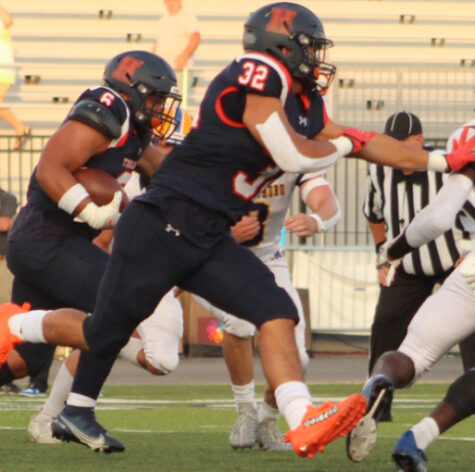 Playing both sides of the ball, one player leads by example.
While Junior Angel Cabrera isn't a captain, he is a leader. Cabrera is the starting running back and outside linebacker for the team. Cabrera has some of the best stats on the team. He averages 64.3 rushing yards per game, has 5 rushing touchdowns, 1 interception and 1 fumble recovery.  
Cabrera has played for the varsity football team since his freshman year in 2019, but got more playing time on JV; however, he has worked his way up to starting since then.                                 
The head coach of Hershey High School football, Mark Painter, has led the program for the last decade with 21 years of experience.
"[Cabrera] is a good leader, primarily in his junior class. On the field, with his abilities, he is a leader to the entire team," Painter said. "The team looks up to him to make plays."
For example, during the Cocoa Bean game against Milton Hershey Cabrera led through his performance. "He was one of the reasons the team was victorious," said Painter.
While Cabrera has made great plays, he still is not at the level of consistency that the coaching staff believes he can be. Cabrera has a couple of areas to improve on like being consistent in making the right plays on a regular basis throughout the course of the game. 
Painter described Angel as an explosive, committed, and enthusiastic person. Cabrera  was able to start playing on the varsity football team as a freshman because the coaching staff thought he could contribute to the team. 
"[Cabrera] starts many games because he is most capable of completing plays, being on both sides of the ball, and giving the team the best chance to win," said Painter. 
Many of his teammates including Maurice Collins, Tristan Bingman, and Sean Elliot would describe Cabrera as entertaining, goofy, precise, confident and hard-working. 
Tristan stated that he thinks Cabrera got the spot on varsity because he runs the ball hard and is passionate about the game, and many others would agree. 
Although Cabrera shows his goofy side during practices, he takes charge in being a vocal leader during game situations.  
Cabrera started playing football when he was 8 years old. He wanted to play a contact sport and is still loving it years later. Cabrera was inspired by Darren Sproles to start playing football because he was the smallest on the team but had the biggest heart.
Cabrera does not play any other sports, but in his free time he enjoys playing video games and hanging out with friends.  
Cabrera's go-to music before a game to pump him up is Nardo Wick and Meek Mill.  "Music helps me focus more on the game than what's going on around me," Cabrera said.
Cabrera plans on going to college to study real estate and to continue his football career. Right now he is talking to University of Pittsburgh (DI), Miami Ohio University (DI), and Millersville University (DII). He wants to continue playing football in college because it's the game he loves and hopes to play professionally eventually. Cabrera has yet to get any scholarship offers, but hopes to get some soon.
Cabrera has found an identity on this team. He has grown up a lot throughout the years – mentally, physically, and understanding the game of football.
Painter thinks Cabrera has a very good chance of playing in college. 
"I believe if he wants to play, he can definitely find a place to play," said Painter. 
Cabrera plans after college are to move to Florida and to sell real estate.  His advice to the underclassmen coming up is, "Take your freshman year seriously," said Cabrera