Records broken at Mid Penn Conference Meet by HHS Track and Field athletes
Hershey High School junior Soleil Morrison placed first in the 100m dash at the Track and Field Mid Penn Conference meet on May 14th, 2022. Morrison ran a time of 11.96 breaking both school and meet records. The previous HHS record was set by Mia Cooper in 2018 with a time of 12.62. Morrison outran the second place finisher by .12 seconds to take the gold. 
Hershey's Soleil Morrison runs new school and Mid Penn Championships records in the 100m with a time of 11.96! Way to go Soleil!! @CentralPARunner @tjj5009 @PennTrackXC @DTSDathletics pic.twitter.com/zMKGfJnYCX

— HersheyHS Track (@HERSHEYTRACK) May 14, 2022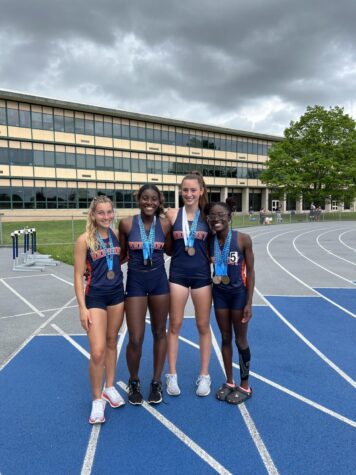 After breaking the school record for the relay at the last regular season meet with a 49.76, they broke the record again at Mid Penn's with a 49.66. 
First place at the meet went to Cumberland Valley with a time of 48.55 and Bishop McDevitt followed in second place with a 49.08. 
The girls 4×100 relay team will advance to District III Championships on Saturday, May 21st at Chambersburg High School. Also advancing to districts is Hershey's girls 4×400 and 4×800 along with boys 4×800 relay teams. 
In addition to relays, Justin Rodgers, Emily Donegan, Garrett Burys, and Soleil Morrison will also be competing in individual events at districts.