Hershey Girls Lacrosse Crushes Mechanicsburg 22-0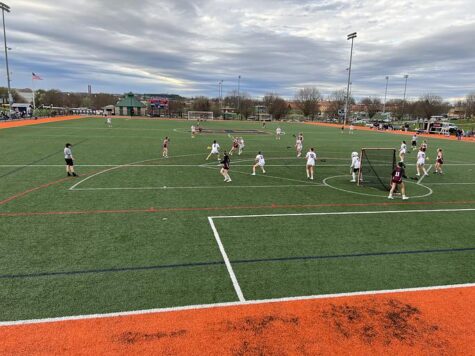 Hershey Girls Lacrosse team defeated Mechanicsburg 22-0 on Youth Night at Hershey High School's 322 turf field on April 14, 2022. 
The Trojan's goalie Olivia Foxx had four saves and secured the shutout game. Foxx received little action, as the majority of the game was played by Hershey's offense. 
The 22 goals were distributed through the team with Caroline Glus, Meghan McDonald, and Elle Pedaci each scoring four; Hanna Russell, Emily Beitzel, and Hailey Russell with two; Fiona Boyle, Ally Beitzel, Abby Hand, and Zoey Hess with one. 
Senior Captain Caroline Glus said the game was a big confidence booster.  "This game was really beneficial for our team development wise, with a significant amount of our team being young, games like this give us confidence," Glus said, "we are also able to work on parts of our game that need some extra practice. Hopefully we can take this momentum into big games like Cumberland Valley next week."
HHS hosted the Hershey Youth Girls Lacrosse Program during the game. The youth team lined up with the players as the announcements took place, and stood on the field for the National Anthem. During halftime, the Youth Team played a short half field scrimmage. 
Hershey Girls Lacrosse plays Cumberland Valley on Tuesday, April 19.