Hershey High Welcome's New Teacher In Language Department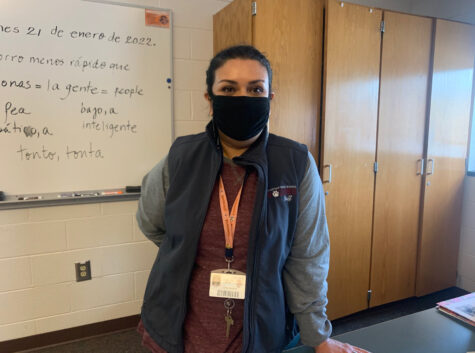 Hershey High School welcomes Vilma Sandoval as the new Spanish teacher in the Language Department. 
Senora Weyforth, previous Spanish teacher at Hershey High School for levels 1,2, and 3, announced that she would be leaving Hershey to teach at Lancaster Catholic, shortly after winter break ended. 
As a position to teach Spanish appeared at Lancaster Catholic, she felt it would be a better fit for her and her family, considering it is closer to where she lives and is where her sons attend school. 
In replacement, native speaking Spanish teacher Vilma Sandoval will be taking over. 
As of the week of January 10th, Sandoval has taken over all of Weyfoth's classes, Spanish 1,2, and 3. 
Sandoval was born in El Salvador making her one of the 9.8% of Hispanic or Latino Spanish teachers in the United States and setting her apart from other candidates looked at to fill in the teaching positions. 
Sandoval also lived in Washington state for the last 7 years and taught with Spanish levels 1,2, and 3 in her school district there, making something about her transition to the new Hershey position consistent with her past teaching roles. 
"The fact that she taught the populations of those classes that we needed just seemed like it was kind of meant to be," said World Language Department coordinator, Barbra Clouser. Clouser was involved with interviews in finding a new teacher to take over for Weyforth.