Oscar Nomination Movie Review: Don't Look Up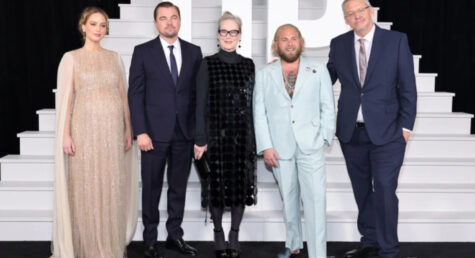 In December 2021, Don't Look Up released for viewers to stream exclusively on Netflix. Directed by Adam McKay, the R rated film is categorized under sci-fi, drama, and comedy. 
This comedy sheds light on a percent of society's unwillingness to listen to scientific reason, showing the result of some people's self importance causing them to question without knowledge. The film shows the process of disbelief and overall an end result of self destruction. 
The film originally got a lot of attention because of its cast. This Netflix original stars many big names such as Leonardo DiCaprio, Jennifer Lawrence, and Meryl Streep. In addition, the film also features some other well known performers such as, Cate Blanchett, Jonah Hill, Tyler Perry,Timothee Chalamet, and Ariana Grande. 
The announcement of the 94th Oscar nominations attracted more people to the movie, as it was nominated for 4 Oscars. The nominations for Don't Look Up include Best Picture, Best Original Score, Best Original Screenplay, and Best Film Editing. 
Though the movie is getting lots of positive attention, many still have a lot to critique. Many critics have given their opinion on the movie specifically finding fault with the message of the movie. 
One example includes Rotten tomatoes who reviewed the movie 56% on their tomatometer and a 78% audience score. Some of the critics claim that the movie's narrative and scope was too "all-over-the-place." 
Personally, I would rate this movie a 7/10. Overall, it was entertaining and funny,  however; the movie was lengthy. The end left a feeling of hopelessness and devastation which sets it apart from most other Netflix films.