HHS Broadcaster 2021 NFL Mock Draft
After seeing the big signings and trades in free agency, it's time to look towards the NFL Draft. The NFL Draft takes place on April 29th, and gives NFL teams the opportunity to take the best college football players to help fill their rosters.
With the NFL approaching, it's time for the mock drafts, which predict which teams will take which players. This mock draft will include trades, as I see some teams making big jumps to ensure they get the player they want.
Here are my predictions:
1. Jacksonville Jaguars
Need: QB, CB, EDGE, S
Pick: QB Trevor Lawrence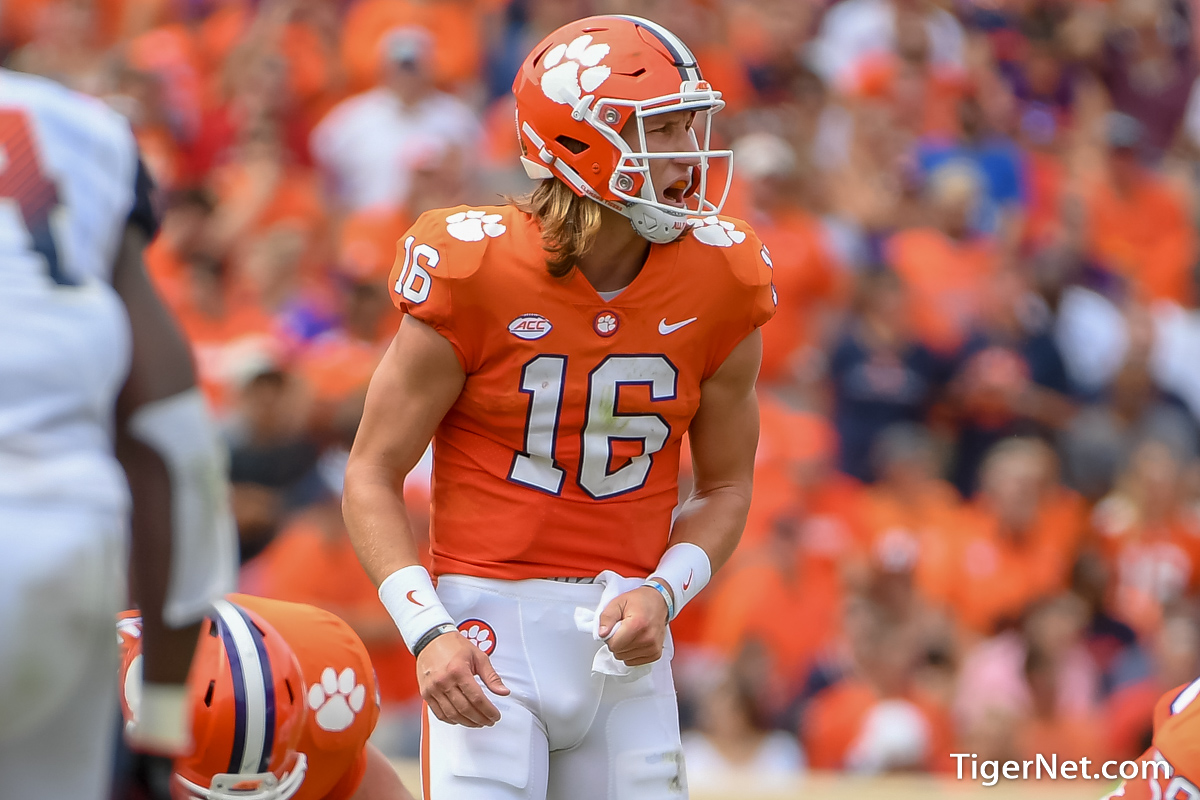 This pick is a no-brainer. Trevor Lawrence is viewed by almost everyone as not only the best quarterback in the draft, but the best player. The Jaguars are picking at number one for a reason, and they could use a talent like Lawrence to help turn their team around.
2. New York Jets
Need: QB, CB, EDGE, WR, RB
Pick: QB Zach Wilson
The Jets decided it was time to move on from Sam Darnold, and having traded away their quarterback, they need to take one with the second pick.. I have Wilson as QB2 in the draft and the Jets need someone out there to put points on the board, something they struggled with last season.
3. San Francisco 49ers
Need: QB, EDGE, IOL
Pick: QB Trey Lance
The 49ers traded up for a reason. They want their quarterback of the future. Now some may argue this pick will be used on QB Justin Fields, but with the timing of the trade taking place right after Lance's pro-day, it seems the 49ers saw something they liked.
4. TRADE: Denver Broncos (via Atlanta Falcons)
Need: QB, LB, OT
Pick: QB Justin Fields
Denver doesn't want to risk one of the top quarterbacks being taken before their original pick at number nine. The Broncos don't see Drew Lock as their future and decide to take arguably the second best quarterback in the draft with Justin Fields.
5. Cincinnati Bengals
Need: OT, WR
Pick: OT Rashawn Slater
Joe Burrow needs protection badly, and while OT prospect Penei Sewell is seen to have the highest ceiling out of the OT class, Slater is going to be the better day one starter.
6. Miami Dolphins
Need: WR, OT, LB, EDGE
Pick: WR Ja'Marr Chase
The Dolphins are the real winners of this draft. They traded down from number three overall, acquired a couple future draft picks, and will still take the player they would've drafted at three. It doesn't get much better than that if you're a Dolphins fan.
7. Detroit Lions
Need: WR, LB, CB, OT
Pick: WR Jaylen Waddle
The Lions lost Kenny Golladay in free agency. They got a downgrade at quarterback with a trade for Jared Goff. They need to provide Goff with some weapons. Waddle can create that separation and can step in as WR1 from day one.
8. Carolina Panthers
Need: OT, CB, TE
Pick: OT Penei Sewell
The Panthers traded to acquire former Jets quarterback Sam Darnold. Now whether you agree with the trade or not, if you're Carolina you need to give Darnold a chance. Protect your quarterback with who many consider to be the best offensive tackle in the class.
9. Atlanta Falcons (via Denver Broncos)
Need: TE, QB, EDGE, LB
Pick: TE Kyle Pitts
Atlanta decides to stick it out with quarterback Matt Ryan for another year or two. They're going to go out and get him arguably the best receiving threat in the draft with Kyle Pitts. While listed as a tight end, Pitts is a truly versatile weapon who is bound to be an insta gamechanger for the Falcons.
10. Dallas Cowboys
Need: CB, OT, IDL
Pick: CB Patrick Surtain II
Dallas needs a strong cornerback. Patrick Surtain reunites with his former Alabama teammate Trevon Diggs and provides the Cowboys with a solid CB1.
11. New York Giants
Need; EDGE, LB, CB, WR
Pick: EDGE Jaelan Phillips
After acquiring Kenny Golladay in free agency, the Giants no longer have wide receiver as their top draft priority. In this case, the Giants decide to take the risk with Jaelan Phillips. While arguably the best edge rusher in the class, medical issues are a major concern for Phillips. The Giants pick for the high potential.
12. Philadelphia Eagles
Need: WR, CB, LB, QB
Pick: WR Devonta Smith
Eagles need receivers, and fans were worried that none of the top receivers would be on the board after they traded down from six to twelve. Luckily, Heisman trophy winner Devonata Smith is still available, giving the Eagles their WR1.
13. LA Chargers
Need: OT, CB
Pick: OT Christian Darrisaw
You drafted your franchise quarterback in Justin Herbert last year, now you need to protect him. Offensive line is the obvious choice for the Chargers at number thirteen.
14. TRADE Washington Football Team (via Minnesota Vikings)
Need: QB, OT, LB
Pick: QB Mac Jones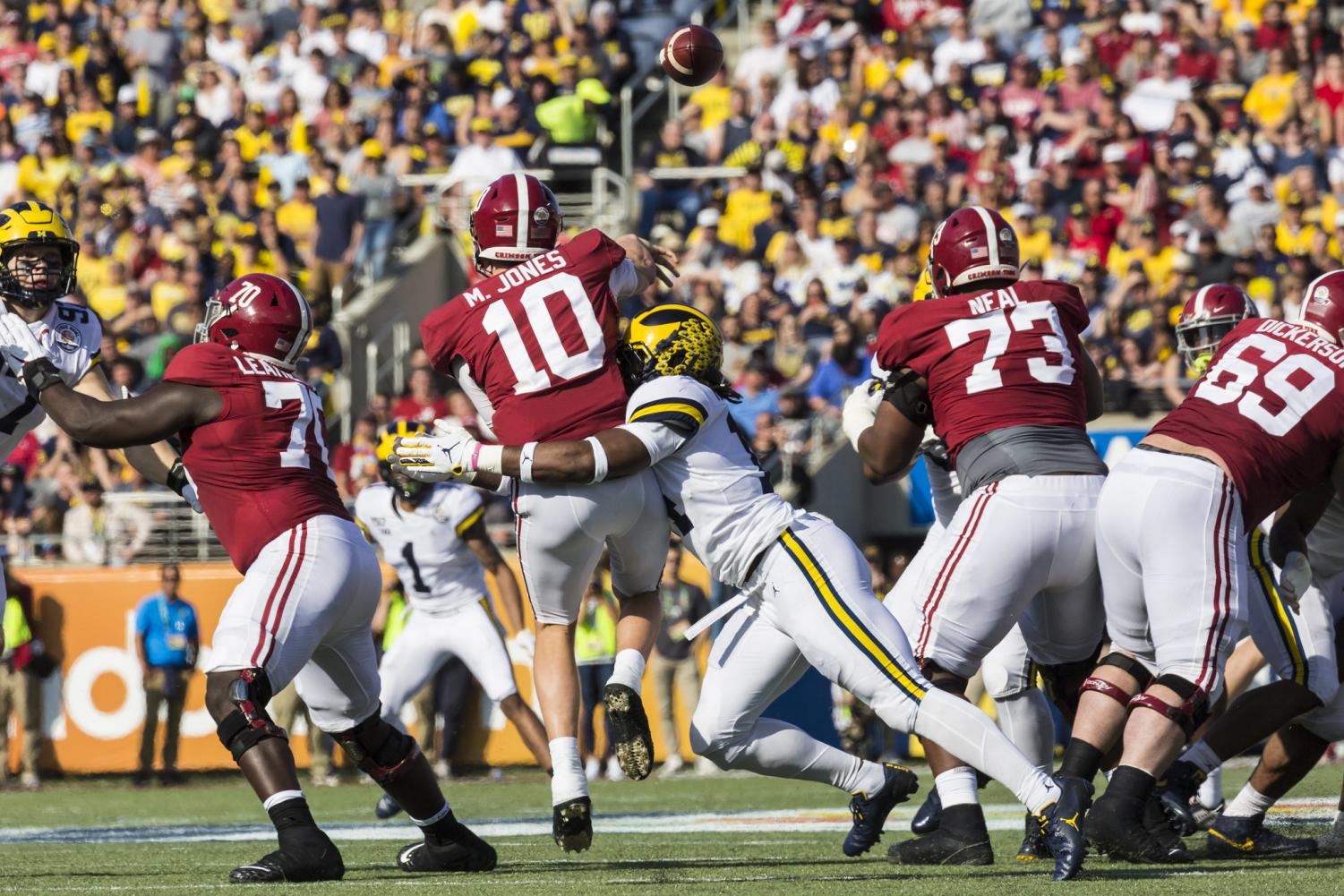 Washington brought in 38 year old quarterback Ryan Fitzpatrick during the offseason, but there is no chance they see the veteran as their future. With New England looking to possibly take a QB at 15, Football Team decides to not take any chances and trades up to grab the last first-round-talent quarterback in Mac Jones.
15. New England Patriots
Need: QB, LB, CB, WR
Pick: LB Micah Parsons
Micah Parsons is arguably the best linebacker in the draft. However, he has been said to have some character issues and some questions regarding his commitment to football. That being said, I think Patriots opt to take the talent with the hope that Coach Bill Belichick can help Parsons sort out his off the field issues.
16. Arizona Cardinals
Need: CB, RB, WR
Pick: CB Jaycee Horn
The Cardinals need help in their secondary, and Horn is highly regarded by many players in the league with his talents at cornerback. With him still available at 16, the Cardinals don't hesitate and take the corner from South Carolina
17. Las Vegas Raiders
Need: OT, LB, S
Pick: OT Teven Jenkens
The Raiders don't have a great offensive line, especially after the loss of Trent Brown and Richie Incognito. Taking a tackle here seems like the clear choice for the Raiders, and Jenkens is arguably the best one left on the board.
18. Miami Dolphins
Need OT, LB, EDGE
Pick: LB Jeremiah Owusu-Koramoah
The Dolphins addressed offense with their first pick. Now they look to strengthen their defense at eighteen with the linebacker out of Notre Dame. Owusu-Koramoah has the ability to play at safety as well, giving the Dolphins flexibility as to where they play him.
19. Minnesota Vikings (via Washington Football Team)
Need: IOL, S, EDGE
Pick: IOL Alijah Vera-Tucker
The Vikings need to address their offensive line in the draft. They'll be able to draft the one they were likely to take in interior offensive linemen Alijah Vera-Tucker at nineteen.
20. Chicago Bears
Need: QB, OT, WR, CB
Pick: OT Samuel Cosmi
The Bears could also potentially draft a wide receiver here, helping out Allen Robinson. However, if I'm the Bears I just don't value any of the remaining receivers to be taken at twenty. Draft a top five tackle in the draft in Samuel Cosmi and address receiver in a later round.
21. Indianapolis Colts
Need: OT, CB, WR, IOL
Pick: OT Liam Eichenberg
With the loss of Anthony Castonzo, the Colts's offensive line could use a little help. The Colts reunite Quenton Nelson with his former college teammate and take Notre Dame tackle Liam Eichenberg.
22. Tennessee Titans
Need: CB, WR, OT
Pick: CB Caleb Farley
Farley is viewed by many as the best CB in the draft class. However, due to a recent injury and upcoming back surgeries, I have Farley falling to the Titans at 20.
23. TRADE Cleveland Browns (via New York Jets)
Need: CB, EDGE, WR, IDL, LB
Pick: CB Greg Newsome II
The Browns have an abundance of mid round picks to use for a trade up, and with their need for a cornerback, I would not be surprised to see Cleveland move up to get their guy. After the signing of Jadeveon Clowney, taking cornerback Greg Newsome II seems to be the clear pick.
24. Pittsburgh Steelers
Need: IOL, RB, CB
Pick: IOL Landon Dickerson
While this pick could also be used to take one of the top running backs, I believe the Steeler will use this pick to fill the holes in their offensive line.
25. Jacksonville Jaguars
Need: CB, EDGE, S
Pick: S Trevon Moehrig
The Jaguars addressed the offensive side of the ball with their first pick. Now, it's time for them to address the defense. The Jags use this pick to take the top safety in the class.
26. New York Jets (via Cleveland Browns)
Need: CB, EDGE, WR, RB
Pick: CB Eric Stokes
The Jets are bad at cornerback. Like really bad. New York should take the best cornerback left on the board with their second pick, and that's Eric Stokes out of Georgia.
27. Baltimore Ravens
Need: EDGE, WR, IOL
Pick: EDGE Kwity Paye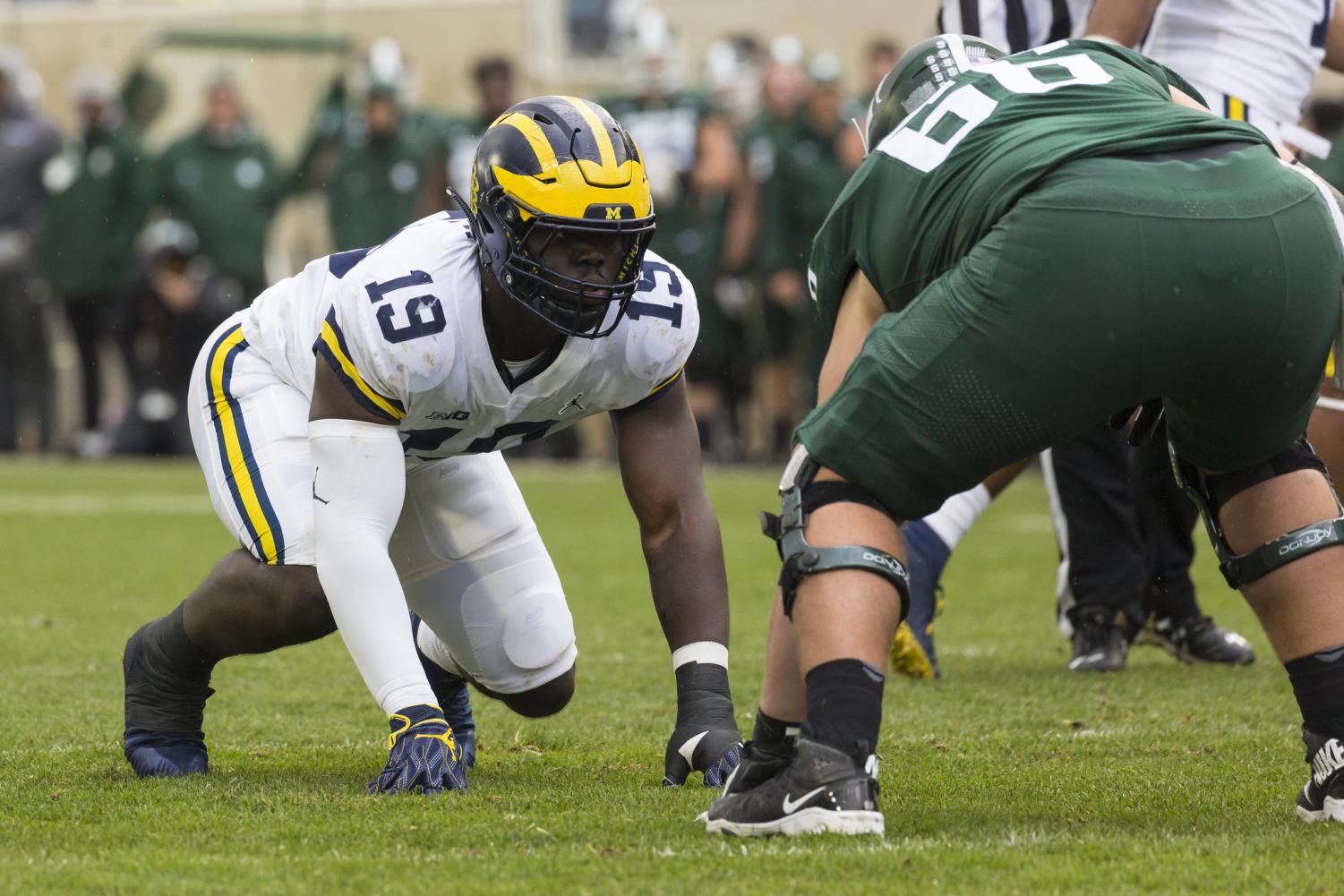 I can see Kwity Paye getting drafted as high as in the top fifteen. Some people view him as the top edge rusher in the class. However, in this mock draft I have him falling to the Ravens at number 27, who need help on their defensive line.
28. New Orleans Saints
Need: CB, WR, S, LB
S Jevon Holland
I have the Saints taking the top safety on the board in Jevon Holland. The Saints add on to their secondary, which could become shaky with recent news involving cornerback Marshon Lattimore.
29. Green Bay Packers
Need: OT, WR, CB
Pick: WR Rashod Bateman
After failing to draft for need last year, the Packers need to step it up and take either a tackle or a receiver. Pairing Davante Adams who is arguably a top three receiver in the league with the rookie Bateman is just too tempting to pass on for Green Bay
30. Buffalo Bills
Need: CB, EDGE, WR
Pick: EDGE Azeez Ojulari
The Bills made it to the AFC Championship last year. They're so close to breaking through to a Super Bowl. Improving their defensive line could be the step it takes to get them there.
31. Baltimore Ravens
Need: WR, IOL
Pick: WR Elijah Moore
Baltimore acquired this pick from the Chiefs, and it is exactly what they need. After grabbing their defensive line help with Kwity Paye, the Ravens can now address their big need for a receiver with Elijah Moore.
32. Tampa Bay Buccaneers
Need: IDL, WR, IOL
Pick: IDL Christian Barmore
When it comes down to the 32nd pick, the Bucs have free reign to select the best player available. Here I have them ending the first round with defensive tackle Christian Barmore, adding onto an already scary pass rush.
About the Writer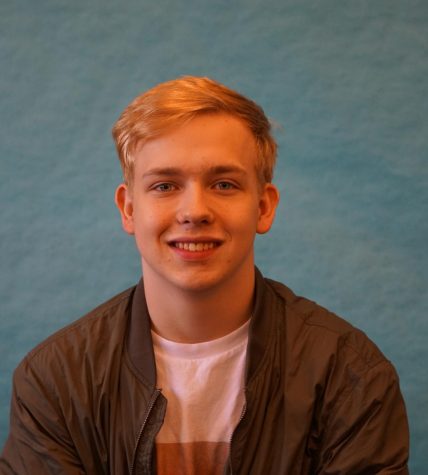 Benji Keeler, Reporter
Benji Keeler is a second-year reporter for the Broadcaster. He is a Junior who enjoys playing music, hanging out with friends, and collecting vinyl.