USA Hockey Captures the gold in 2021 World Junior Championship
USA defeated Canada by a final score of 2-0 to win their fifth gold medal in program history. This was the fifth time in the last six years that Team USA has medaled in the event, the best medal stretch in the nation's history per USA Hockey. 
This gold medal victory came as a surprise, for Canada has been the heavy favorite throughout the entirety of the tournament. Canada's first line consisted of all first round NFL draft picks. Canada's Dylan Cozens was the catalyst in their silver medal finish, as he achieved 16 points in only 7 games.
Although the odds were stacked against the Americans this year, the U.S. holds the advantage over Canada since 2016, with a 2-2-0-1 (W-OTW-OTL-L) record, including the 2017 tournament in which the American squad defeated Canada in a gold-medal shootout.
The teams ranked first and second in goals scored and team shutouts. However, the United States power play unit (42.86%) holds the advantage over Canada (33.33%), and proved to be a difference maker.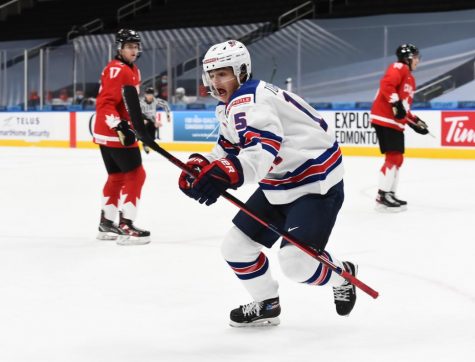 Team USA was carried on the heels of stellar performances from goaltender Spencer Knight and forward Trevor Zegras. Knight notched a shutout in the gold medal game, as he stopped all 34 shots that came his way. Knight was able to maintain an astonishing 1.63 goals against average throughout the entirety of the tournament, and listed three shutouts as well, according to Elite Hockey Prospects. The U.S. had the first shutout in the gold-medal game since 2012
Trevor Zegras posted unreal numbers, as he was named World Junior Championship MVP. In only 7 games, he tallied 7 goals, and 11 assists. Zegras was selected by the Anaheim Ducks 9th overall in the first round of the 2019 NHL draft. Zegras's 18 point performance helped him to eclipse the record set by previous USA hockey legend, Jeremy Roenick.
After the tournament concluded, USA head coach Nate Leaman, told USA Hockey, "I'm very proud of this group of guys, we really came together as a team over the course of this tournament. We played a great Canadian team today and we're very fortunate to have beat them. I'm proud of how this team played together. This will be a memory they have forever."