Ex-NFL Quarterback Tavaris Jackson Dies in Car Crash
Former NFL Quarterback Tavaris Jackson died in a car crash on April 12th. Jackson was 36, leaving behind his mother Sasanque Jackson Scott. 
Jackson, along with Michael Vick, and Randall Cunningham, were stepping stones to the transition to mobile quarterbacks that have swept into prominence in the current NFL. Jackson built his game around mobility, and he succeeded throughout his career, doing run pass options and rolling out of the pocket on play actions opened up lanes for him to scramble.
While rushing for 636 yards over a ten year career may seem low by today's standards, mobile quarterbacks were still a novelty in 2006 when Jackson was drafted by the Minnesota Vikings.  While he did get some time at quarterback in relief of aging veteran Brad Johnson in 2006, in 2007 Jackson took over the starting job.
Jackson was troubled by injuries over his career: knee surgery to repair a torn meniscus in 2006 and turf toe problems in 2010 cut his season short.
After several years of lackluster results despite his obvious potential, Jackson left as a free agent.  He signed with Seattle, and had his best season throwing for over 3,000 yards and 14 touchdowns through the air.  During the off-season Seattle drafted Russell Wilson, and Jackson was traded to the Buffalo Bills.
Jackson didn't play in 2012 as he was the third-string quarterback.  He resigned with Seattle and served as Wilson's backup until going unsigned and retiring in 2015.
Born and raised in Montgomery, Alabama, Jackson graduated in 2001 from the Sidney Lanier High School in Montgomery. 
Jackson then entered Arkansas University and played three games as a rookie for the Arkansas Razorbacks, but had a season ending injury, resulting in a medical redshirt (adding another year of eligibility). Jackson played 8 games in 2002. The next season he transferred to Alabama State University, and he led them to a 8-5 record.
Jackson played for the Minnesota Vikings, Baltimore Ravens, Seattle Seahawks, and the Buffalo Bills. After retiring Jackson served as a QB coach for Alabama State and the University of Tennessee. 
The Vikings drafted Jackson in the second round of the 2006 NFL draft, and from 2006 to 2010, Jackson played for the Vikings. Jackson was a backup with the Vikings for most of his career. Jackson signed with the Seahawks in 2011. Then, before the 2012 NFL season, Jackson was traded to the Bills but did not play. Jackson got traded back to the Seahawks in 2013. 
About the Contributor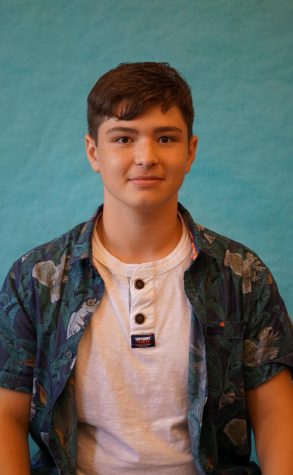 Tanner Waxman, Reporter
Tanner Waxman is third year reporter for  The Broadcaster, he is a senior who enjoys watching the Minnesota Vikings, wrestling, and editing videos.