HHS Theatre Announce Cast for Musical The Addams Family
The HHS Theatre department released the cast list for The Addams Family, the school's winter musical, on December 12, 2019.

The musical follows the story of Wednesday Addams, the oldest child in the mysterious and exceptionally odd Addams family. 18 year old Wednesday has managed to fall in love with an average, plain boy, Lucas Beineke. The couple plans on getting married, and they have to find a way to keep their families calm when they meet each other. 
The female leads include Wednesday Addams, portrayed by senior Jaelissa Akers, and Wednesday's mother Morticia Addams, portrayed by junior Morgan King. Another prominent role is Alice Beineke, the mother of Lucas Beineke, portrayed by junior Kate Copeland.
The male leads include Morticia's husband Gomez Addams, portrayed by senior Chris Santiago, and Wednesday's uncle Fester Addams, portrayed by senior Jacob Drexler. Two more prominent male roles are Pugsley Addams, portrayed by senior Derek Todd, and Lucas Beineke, portrayed by sophomore Ethan Cooper.
Santiago said, "I am super excited to work with such talented people." 
Rehearsals officially began January 3rd.
The shows will be performed on February 28, 29, and March 1 in the HHS Auditorium.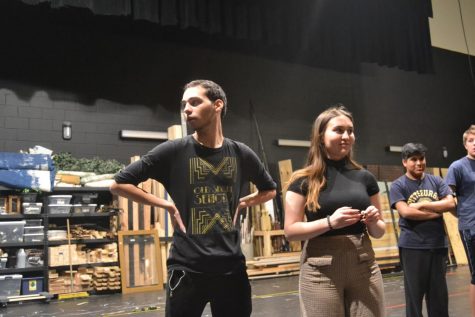 Video features Chris Santiago (Gomez Addams), Ethan Cooper (Lucas Beineke), Jacob Drexler (Uncle Fester), and Morgan King (Morticia Addams). Rehearsals started January 3rd. (Broadcaster/Natalie Taylor)