Hershey High School Cheerleaders Win District Championship
HHS Cheerleaders won the District Champion title at Central Dauphin East High School on Saturday, December 7, 2019.
Hershey competed against five teams, and the top three teams in their division qualify for the state competition. Hershey scored 66.9 points out of 100 to surpass Oley Valley High School. Oley Valley secured second place with 65.57 points, and Carlisle placed third and was last to qualify with 63.57 points.
Teams competing in districts are divided by squad size – small, medium and large. Hershey was competing in the medium size category with 16-20 members. This victory qualified the team to compete at the Giant Center on January 10th and 11th, 2020. 
Sophomore Lauren Cribbs said she was surprised by the win.  "It was a really surreal moment. We really didn't think we were going to win," said Cribbs, "so being able to see our hard work pay off made all the hard practices worth it."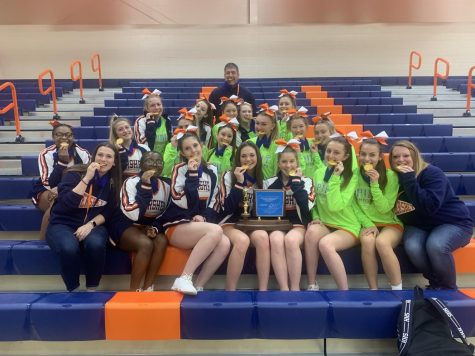 Click here to view video of the performance.