World Health Organization Declares Zika Virus Global Threat
By: Irene Ciocirlan
A bite from a certain mosquito can cause more damage than just an itch.
The World Health Organization (WHO) has declared the Zika virus a global public health emergency as of February of 2016. The Zika virus is an emerging mosquito-borne virus that was first identified in Uganda in 1947, but has spread to many other parts of the world since then. Cases of this virus were mainly in Brazil, but many other countries and territories have reported outbreaks. The infection mainly affects pregnant women, and contributes to many babies being born with underdeveloped brains.

The scientific term for underdeveloped brains is "microcephaly." According to BBC News, 4,700 cases of microcephaly have been reported in Brazil since October of 2015. The birth defect can result in lifelong complications like intellectual disability, developmental disorders, and seizures. However, babies born with microcephaly often don't survive.
So how is the Zika virus actually transmitted? According to WHO, it is transmitted to people through the bite of an infected mosquito from the Aedes Aegypti species. The Aedes Aegypti mosquitoes thrive in tropical and subtropical zones, which is why countries in South and Central America (like Brazil and Puerto Rico) are being affected. This same mosquito transmits other diseases such as dengue, chikungunya, and yellow fever.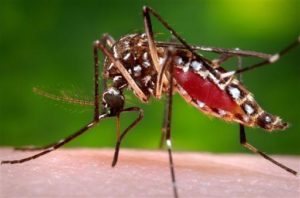 Recently, a 70-year old Puerto Rican man died from the Zika virus in February. This was the first time in the United States territories that the Zika virus was the cause of death, said the Centers for Disease Control (CDC). According the Cable News Network (CNN), he was treated for symptoms that lasted less than a week and then recovered. A few days after his recovery, he came back to the hospital with a bleeding disorder and did not survive.
This wasn't the first time Zika victims experienced blood-related symptoms. This is the ninth known case of bleeding associated with the Zika virus, said CNN.
Some other symptoms include mild fever, conjunctivitis (red, sore eyes), headache, skin rashes, and muscle and joint pain. These symptoms normally last two to seven days. However, four out of five people infected won't even know they have it, according to the Huffington Post.
The United States government and the CDC is trying to prevent the spread of Zika to the U.S. Some of these prevention tips include avoiding mosquito bites, applying insect repellent when outside, and wearing long sleeves and long pants. More prevention tips can be found here.
The CDC is also warning United States citizens to not travel to areas with reported Zika outbreaks. These areas include anywhere in the Caribbean, Central America, The Pacific Islands, and South America.
If travellers do plan on travelling to infected countries, they should follow the CDC's guidelines on how to stay healthy and safe.