For Caroline Cotton Hard Work Makes Winning Look Easy
By: Lydia Gould
For Caroline Cotton, winning is definitely not easy.
Cotton is currently a senior at HHS, and has been participating in track for six years. Cotton's events include the long jump, triple jump, and the high jump, which is her favorite.
"I really enjoy high jump because I am most successful in this event, and it's a fun event to work on in practice and compete in meets," said Cotton.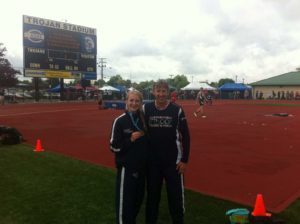 Her success in her events comes from her hardwork and determination. Cotton has been participating in both indoor and outdoor track, and she's also an avid off-season trainer.
"During the off season, I do a lot of running and serious weight lifting to build strength. I work on some technique for my jumps, but I tend to focus on technique and my specific events during the season with Coach Stover," said Cotton.
However, track has always been more than just running for Cotton. In fact, some of her favorite times of the season are made off of the track.
"I love spending time with my friends and the coaches," Cotton said, "It's always a lot of fun, and it takes my mind off everything else."
Cotton also says that her coaches, in particular, head coach Kevin Stover, has had a rather large impact on her track career.
Cotton said, "He (coach Stover) pushes me to work hard, perfects my technique, and always gives me the coaching and attention I need at meets."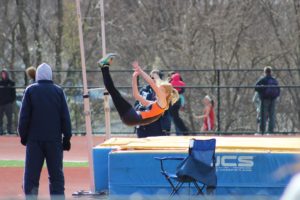 Cotton has always been one to persevere through anything, and she always says she trains hard year-round. However, a basketball injury in her junior year put a halt to her training.
During a practice her junior year, Cotton was just running drills per usual. She said, "I jumped to intercept a pass and when I came down, I landed wrong and my left knee caved inward." She soon found out that she had torn her ACL and a bit of her meniscus in her knee.
This injury led Cotton to have to get her tendon reconstructed, and the surgery took her out of basketball for the rest of the season. In addition, Cottin  was not able to participate in track that upcoming spring. She was very upset by this setback.
"Junior year was going to be a big year for me and it's a big year for recruiting as well," Cottin said. "I think that losing that year did put me behind than where I could potentially be."
However, Cotton was determined to not let the injury get the best of her. Even though she was not able to walk for a month after the surgery, let alone run, she continued to push herself to get as better as she had done in the past.
"The 9 months of recovery were definitely the hardest I've ever trained", said Cotton. "I had to teach myself how to walk and run again and when I completed that, I ran and lifted weights almost everyday."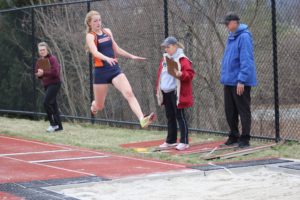 Even though her knee tends to hurt from time to time, the constant training has paid off for Cotton since she was able to compete in indoor track the previous season. She also was able to clench a 10th place win in the high jump at states.
Cotton has also received a few offers  for track in college, but she's not sure if she's ready to commit to anything yet.
Cotton is excited for her last track season as a Trojan and she encourages everyone to try the sport she has grown to love.
"It's a great experience especially if you do well and continue into post season," Cotton said, "I would definitely join if you want to stay in shape and have fun."