HHS students weigh cost of trip to France
By Martina Yee, Journalism 1 / Edited by Lynn Dang, section editor
There is a barrier Hershey High School students must overcome before tasting warm chocolate crêpes and seeing the sky-scraping Eiffel Tower of France.
This barrier is financing. From June 13 to June 24, 2016, several Hershey High School students travel to France. They will have to take care of the financing of the trip: $4,295, excluding lunches and souvenirs. If a student cannot meet the finance requirements, there are ways, such as fundraising, to help students pay for the trip.
Whether it's buying a new car or a trip to France, finances play many roles. They matter because they can determine if a student can go to France, explained Sophomore Tiffany Walker.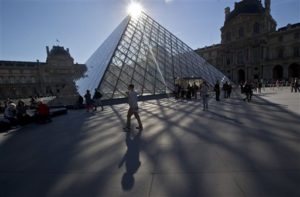 According to Walker, students will need to figure out where the money will come from and how they'll acquire it. Walker stated, "Everything done [for the trip] has to be paid for, so finances will come to play." Walker believes that people will struggle with paying for $4,295 because it is not something people have when it comes to pocket money.
Michelle Kindt, a French teacher at HHS, believes money can be prohibitive and difficult or even impossible to pay.
"[The finances] does make it difficult sometimes for students to participate [in trips]," Kindt said.
Kindt believes the cost of the trip is the cause of difficulties. This $4,295 will cover breakfast and dinner, air fare, hotels, admission tickets, and other things alike. Students will need to bring extra money with them for lunch; they will also need to bring money for souvenirs and any other extra activities if they desire.
Though Kindt views souvenirs an optional, some students view them as essentials. Sophomore Maria Goldman wants to obtain a long lasting memory of her trip to France. She said, "Food and souvenirs make the trip memorable."
While striving to create a memorable trip, students may be struggling to meet the finance requirements. If that is holding them back, there are ways they can get help if they want to go.
Walker comments that students can save money. By saving money, the student can build her/his way to reach their goal. They can also save money and wait to go to the next trip to France, rather than going to the upcoming one. "I heard about this trip in middle school, so we [my family and friends] had already started saving up for it," said Walker.
If a student can not afford to go this year, there are more opportunities in the future to go: it happens every two years. Fundraising is an option and so is having a job.
Michele Chadwick, mother of sophomore Meredith Chadwick, said her daughter has a job, and the money gained from the job will help pay for some of the money that goes into the trip. The money gained will also go towards food and souvenirs.
Chadwick thinks if a family is in a tight circumstance, they should make meeting ends more of a priority, rather than travel.
Chadwick said, "I think travel is an extra."