Into the Woods Musical Review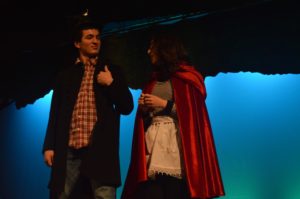 By: Lydia Gould
What do you get when you cross a damsel in distress with a frazzled baker and even with a wicked witch? You get a fun, entertaining, and spirited musical production guaranteed to put a smile on your face.
This year, the HHS theater department production was Into The Woods: a musical written by Stephen Sondheim and James Lapine. This musical takes all of your favorite childhood fairy tales and mashes them together to create a new story.
The entire cast succeeded in bringing all of these fairytales to life while creating their own spins on each character. It was evident that each cast member had a passion for theatre, which made their performance even more engaging. The whole cast deserved a standing ovation after their excellent performances.
One of the most showstopping performances was from Paxton Zeis, a senior, who played the witch. She was beautiful, graceful, and acted as one of the most realistic witches I had ever seen. Zeis certainly was outstanding in her last musical. Her captivating voice and bodacious personality will be missed next school year.
Another actor who shocked both myself and many others at his performance was freshman Patrick Gavazzi. Gavazzi was flawless as both the wolf and the prince, and was one of the best vocalists in the whole production. It is possible that Gavazzi will have an amazing future in upcoming HHS productions.
Additionally, Into the Woods had four other leading roles: Little Red, Jack, the Baker, and of course, Cinderella.
The female leads, played by juniors Julia Rippon (Little Red) and Brenna Beck (Cinderella), were nothing but fantastic. Rippon really stepped into the shoes of Little Red, while adding spunk, youthfulness, and some comedic relief to the show. Furthermore, she also sang beautifully in all of her songs.
Along with Rippon, Beck remarkably tuned into her role, portraying my favorite princess beautifully and spectacularly. Beck surprised everyone with her crisp voice and charming personality.
The male leads also sang beautifully and embodied their characters. Cameron Brown, who played Jack, was captivating as both a singer, as well as an actor. Additionally, Brown also warmed many hearts through his touching scenes with Tori Moss, his best friend, the cow. Patrick Starner, the Baker, had a rather large and sometimes challenging role, but he was beyond successful in executing it. His emotions had indeed conveyed the distraught emotions of the Baker.
Aside from the cast, the music throughout the production was flawless and whimsical. The students in the pit played at a professional quality that added much emotion to the musical.
The sets and backdrops were also another element that only added to the beauty of the musical. The amount of effort put into each and every set design definitely paid off in the end.
Hershey High School's production of James Lapine and Stephen Sondheim's Into the Woods was an amazing show. The entire cast and crew was amazing in putting on the production, and I enjoyed every minute of it. Bravo to the HHS theatre department and everyone who was involved with the musical this year.