Downfall of Jeb Bush's Campaign
By: Jenny Kim
John Ellis "Jeb" Bush, one time Republican frontrunner and former Governor of Florida, has dropped out of the 2016 Presidential Election.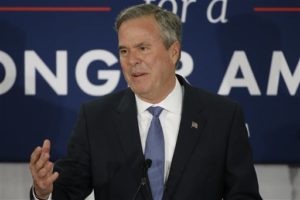 Before Bush had announced his presidential campaign, many people thought that he would be the likely Republican frontrunner. With Romney out of the way and the support of many donors, Bush was expected to do very well in the 2016 Presidential Election. According to NY Times, Bush raised a total of 157.6 million dollars half of which went to positive advertising.
Beginning on June 15, 2015, Bush's presidential candidacy journey began. However, the journey  staggered and eventually fell apart as he gained no traction with the Republican voting base of the US today.
Bush's presidential campaign came to a stop on February 20th when he announced, "The people of Iowa and New Hampshire and South Carolina have spoken, and so tonight I am suspending my campaign."
Bush's tumble in the polls can be traced to when Donald Trump blasted Bush as "low energy." This remark made people realize Bush's dispassionate, low-key demeanor and lack of purpose. Consequently, the people of the US just didn't see Bush as the man for the job.
In his speech, announcing his suspension from the presidential election, he stated that, "I firmly believe the American people must entrust this office to someone that whoever holds it is a servant, not the master."