Social media becomes big inside HHS with teachers
By: Madison Held
Tweets and posts may soon make pencil and paper obsolete in HHS classrooms.
What students, teachers, and parents once knew as a social media has now turned into an educational tool. Little by little teachers are using media to connect with their students and even their parents too. Along with fun, this plot twist has caused rules and struggles for both students and teachers.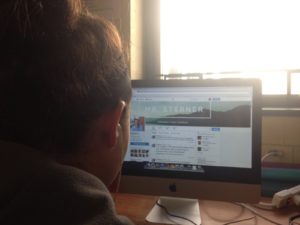 English teacher Robert Sterner explained that his classroom twitter is run directly through him. "On my class twitter, I don't follow them, they follow me and that's it," Sterner said.
Sterner only follows students on Facebook who have graduated, and only if he would actually be friends with them outside of school.  Sterner says this is something he would consider as a rule for himself.
However, for Brianna Crowley, English and Media Studies teacher, as of right now she has no rules set in stone for herself or her students. "Right now, it's still driven by me," Crowley said. She hopes one day her students will take over her class social media accounts. However, Crowley thinks that she would have to create a set of what she calls guidelines if students took more initiative to post.
"Students aren't as comfortable with social media as adults think they are," Crowley said.
This is making it harder than she expected to build up the social media aspect in the classroom.
However, sophomore Lauryn Gaston explained that she doesn't really mind using media in the classroom. Gaston explained that sometimes teachers will send out reminders of homework that is due.
"On the other end, we don't really use it in class as much and it doesn't make things that much easier," Crowley said. Glitches and conflicts within networks leads to the media crashing and students not getting anything done in class.
On the other side of the story for Sterner, social media may save him 20 minutes of trying to share things with all his students. Typing in individual email addresses into Google Docs is a waste of time. Through Twitter, Sterner said he can just send it to everyone at once.
"With Twitter it's quicker and more efficient," Sterner said.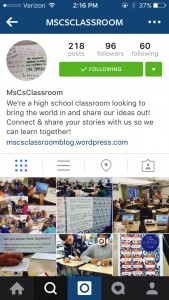 Crowley went on to say that Twitter and Instagram are  great for connecting with her students since most students already use them. Crowley uses different social media's for different reasons. "For example, Facebook is what most parents use so I made one so the parents can see what the classroom is like," Crowley said..
Also, Crowley said she loves the aspect of being able to connect with people who aren't in the classroom.
"It's awesome to be able to connect with experts, authors, and outside people," Crowley said.
However, with positives there usually comes a negative. Crowley believes that her three social media accounts add another layer to her teaching. "It does make cool experiences easier," Crowley said, "but it makes my job more complex by having all the different accounts."
Teachers and students are slowly adjusting to the update of social media in the classroom. As Sterner said, "In the end it's fun and engaging for the students while educational."