Hershey Wrestling falls hard to Red Land.
By: Kaylee Williams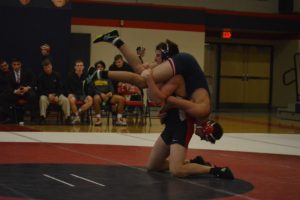 Hershey High Wrestling team fell hard to Red Land in a 47-18 loss Thursday, January 21, 2016.
The Trojans won five matches, four by decisions. Sophomore Oliver Herndon (132 lb) won 9-8, Junior Aidan Donahue (195 lb) won 7-3, Junior Pat Ross (113 lb) won 6-3, and Senior Josh Warren (285 lb) won by a 6-1 score. HHS also earned a victory by forfeit in the 220 lb match.
HHS could overcome losses to Red Land in the other seven matches. Losses by pin in the 106 lb, 120 lb, 145 lb, and 185 lb matches resulted in 24 points for Red Land. Red Land also snagged 3 decisions and 2 forfeits pushing the Patriots to victory over the Trojans.