Disney's Epcot: What could have been
October 18, 2021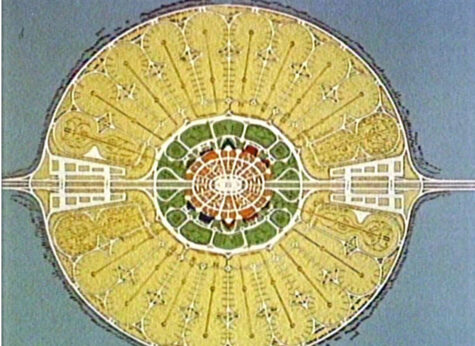 A simple map of Walt Disney's original plan for EPCOT taken from a screenshot from Walt Disney's E.P.C.O.T film from 1966. The yellow section represented the neighborhood, green was the green belt, red were the apartments, and orange was the business and commerce area. (The Walt Disney Company)
Epcot recently concluded their 50th anniversary celebrations, but the theme park that is being celebrated today is very different from the original plan.
This popular park allows visitors to experience cultural aspects from 11 different countries, including Japan, Italy, Mexico, and Canada. There's also opportunities to learn about science and space, by riding on rides such as Mission: SPACE.
However, creating a fun and educational experience for visitors from all around the world was not entirely what Walt Disney had in mind when he created the first plans.
Disney announced his idea for the original Epcot in 1966 when he released a short and intriguing 25 minute video. In this video, he explains his dream of building a large tourist city, known as Disney World. This city would be carefully located between the two most major highways in Florida, providing easy access for Florida residents, as well as tourists.
Disney World was going to be 27,400 acres, over twice the size of Manhattan. The 43 square mile plot of land would include an airport, theme park, hotels, and industrial park area, but in the center of it all would be a utopian metropolis, EPCOT. 
In his 1966 film, Walt Disney walks viewers through his detailed plans for the park.
"EPCOT will be a planned environment, demonstrating to the world what American communities can accomplish through proper control of planning and design," said Disney. 
https://www.youtube.com/watch?v=sLCHg9mUBag 
EPCOT, an acronym for "experimental prototype community of tomorrow," would be a place like no other, where citizens of the city could experience a type of life that couldn't be found anywhere else. 
The city would be circular, with the central hub in the center and four rings surrounding it. 
The outermost ring would be where houses are located. Neighborhoods with single family homes were going to be where most of the 20,000 people living in EPCOT would reside. Around all of the neighborhoods would be walking trails, playgrounds and parks, and recreational areas.
A broad green belt would take up the space allocated for the second ring. This green belt would contain more parks and recreational areas, as well as schools for the kids living in EPCOT.
Following the green belt would be high density apartment housing, dedicated mainly to individuals and smaller families. 
The final and innermost ring circling the central hub would be the area of business and commerce. This center would provide a place for cultural, social, and business activities, as well as entertainment for thousands. There would be a hotel, towering at least 30 stories, with an attached convention center. Shopping areas, theatres, restaurants, nightlife attractions, and office buildings would also be located in this area.
The shopping and entertainment part of the center would be an enclosed space covered by a clear dome. People walking around wouldn't even notice that they're inside, if it weren't for the fact that the weather was always perfect. The dome would keep any kind of uncomfortable weather outside, including heat, cold, rain, snow, and humidity. 
When in EPCOT, the roads stay clear so that children can play on them without parents worrying. That means that cars drive on hidden roadways, located underground. However, cars would not travel on the roads often, due to other kinds of transportation that would be available.She 
A new vehicle known as the "Wedway PeopleMover" would constantly be moving in and out of the central hub. When aboard the PeopleMover, you could get just about anywhere in EPCOT without any trouble. The cart would travel on tracks above the ground, slowing down at different stations to let people on or off.
If you want to leave or enter EPCOT, there is a different kind of vehicle that will allow you to do just that. The monorail, which would also operate from the central hub, would travel outside of the city, quickly taking people to some of the other locations in Walt Disney World.
One of those locations may be the 1,000 acre industrial park, which would provide employment to most of the people living in EPCOT. The few people who don't work in the industrial park would likely work in the business and commerce area. When designing EPCOT, Disney wanted to make sure he included enough employment opportunities so that everyone could have a job and a steady income.
Unfortunately, Disney died shortly after creating these intricate plans. The rest of the team, however, decided that they should still try to carry out something similar to EPCOT in honor of Disney and all of the hard work he put into the design. Thus, Epcot as it is known and loved today was born.