McDevitt Crusaders Defeat Hershey Trojans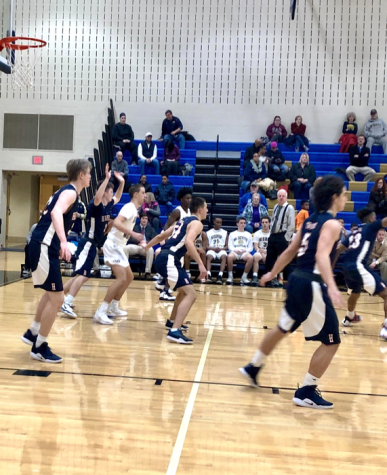 The Hershey Boys basketball team lost 63-79 to the Bishop McDevitt Crusaders on Tuesday, January 22, 2019.
The Trojans started strong and after the first quarter, the Trojans were on top 19-10.  But by halftime, the Crusaders took the lead 42-32.
The Crusaders never looked back winning with a score of 79-63.
"If us versus McDevitt wasn't a rivalry already, it is now. I'm excited for us to make a late push to get into districts," said senior Griffin Jackson.
After this game, Jackson is now a Mid-Penn 3-point leader with 49 three-point shots this season.
On Friday, the Trojans defeated Palmyra by 60-54, and on Saturday, the Trojans lost to Lebanon by 43-40.
The Trojans' current overall record is 8-10, and their next game is at Red Land on Tuesday, January 29, 2019.