Then and Now with Joey Corado
Hang on for a minute...we're trying to find some more stories you might like.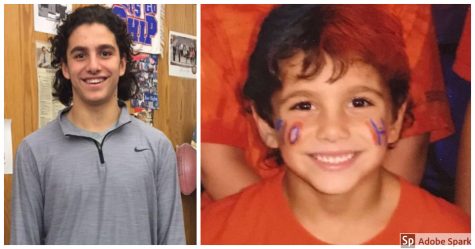 Sophomore Joey Corado at age eight is pictured at the Cocoa Bean game. Corado and his friends were at a tailgate before the game. They were throwing around a football and eating food, said Corado.
"I was having fun because my friends and I were playing around with the football, and I really liked watching football, so that was fun as well," said Corado.
Corado now plays football for the high school and has been playing since freshman year. Corado is the kicker for the HHS football team.
"I decided to play football because most of my friends were doing it," said Corado.
Additionally, Corado decided to play football because he liked kicking and when he stopped playing soccer, the football coach asked him if he could kick.
"This is my fifth year playing football," said Corado.
Corado has played in fourth, seventh, eighth, ninth, and tenth grade and is going to continue to play. He continues to play football with a few friends that have played on the same team-Jackson Bouslough, Davey Loyd, and Owen Weaber.