A spoiler-free review: Star Wars: The Last Jedi
What do Tom Hardy, Joseph Gordon-Levitt, Rogue One director Gareth Edwards, Prince William and Prince Harry all have in common?
They all have cameos in Star Wars: The Last Jedi.
Star Wars: The Last Jedi opens December 14, 2017.  Directed by Rian Johnson, The Last Jedi is the second film in the current trilogy.
Director Rian Johnson's entry into the series is a clear step away from the rehashed plot employed in The Force Awakens directed by J.J. Abrams.  Where Abrams relied on heavy doses of nostalgia, Johnson's The Last Jedi is one of depth and subtlety.
Rey, played by the delightful Daisy Ridley, completed her quest to find Luke Skywalker at the end of The Force Awakens.  However, now she must convince him to train her in the ways of the Force.  Luke Skywalker wants none of it. Skywalker, played by Mark Hamill with a dark wit, is haunted by a failure.  He says he will train no more students, and he will be the last Jedi.  Meanwhile, Finn, Poe, and Princess Leia are struggling to escape the clutches of the First Order.  John Boyega, Oscar Isaac, and the late Carrie Fisher have brought more nuance and humanity to their roles this time out.  There are several new characters introduced.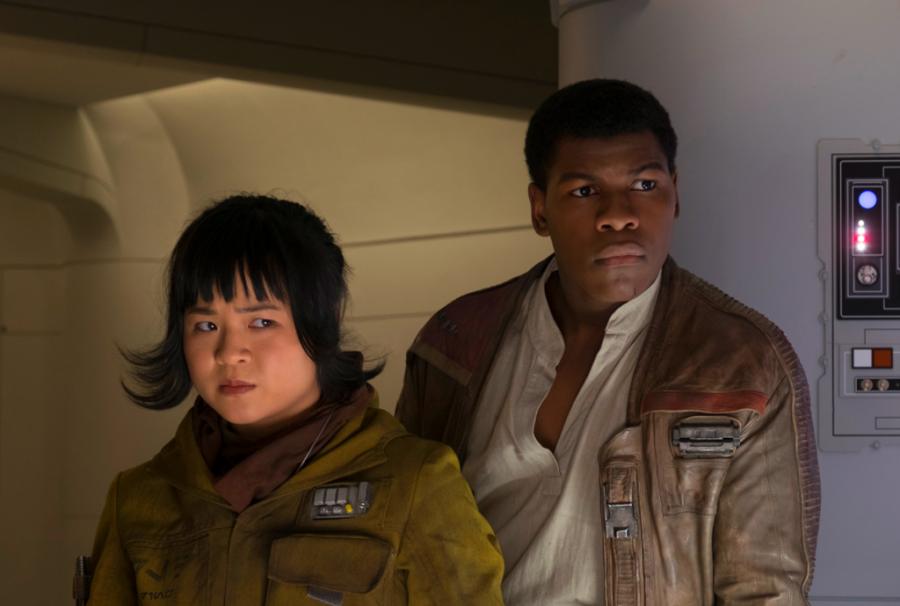 Kelly Marie Tran joins the rebels as Rose Tico as does the veteran Laura Dern as Vice Admiral Holdo.  Both turn in excellent performances as does Benicio Del Toro, a national treasure.  Del Toro's performance is by turns endearing, shifty, and cynical.  In a word, perfect.
Without spoiling the film there are some truly excellent moments in The Last Jedi.  First, despite the rumors there is no appearance by the reviled Jar Jar Binks to the relief of this fan.  Elsewhere there's a visit from an old friend from the original trilogy, an incredible moment of silence before a tremendous explosion in space, and last of all an epic and heartfelt send off for a classic character of the series.  But I shall say no more.
Director Rian Johnson's story and direction were such that Disney trusted him to create an entirely new trilogy unconnected to the main storyline yet set in the Star Wars universe.  He will write and direct the first film of the new trilogy.  No release dates are set.
Ultimately The Last Jedi is the middle chapter in a story and like all middle chapters it raises more questions than it provides answers.  It will be a long wait until the as-yet-untitled Episode IX is released in December 20, 2019.