Opening of MeltSpa by Hershey
Carly Carrasco, Copy Editor
May 25, 2017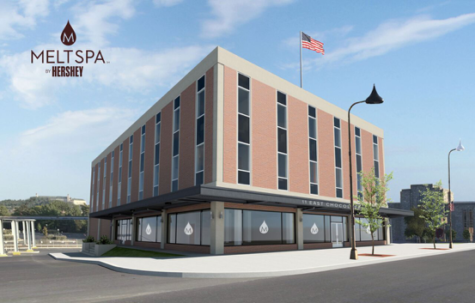 The perfect escape to relaxation is right in the heart of the busy town of Hershey, PA.
In January of this year, Hershey Entertainment & Resorts announced the addition of MeltSpa by Hershey, which is planned to open in the fall of 2017. It will be located in the center of downtown Hershey at 11 E Chocolate Ave. If you want to enjoy a little piece of luxury, make your reservation now.
The COO of Hershey Ent. & Resorts Co., John Lawn, started out in the Hershey Company in 2004. Lawn was a food and beverage director at Hersheypark before being promoted to assistant general manager of the park in 2005. He quickly became vice president in the year of 2010 and then continued to go on to his current title, COO, officially in the year of 2015. Lawn is the president and chief operating officer of the new MeltSpa location.
"The new day spa will offer unique experience to the downtown area while bringing more jobs to Hershey," Lawn stated.
These unique experiences include body treatments, massages, hair styling, facials, manicures, pedicures, waxing, makeup, scrubs and wraps. The exclusive treatments are Hershey's Dark Chocolate Sugar Rub, Hershey's Dark Chocolate Body Wrap, and the Hershey's Sweet Hands & Feet Dark Chocolate Treatment. The Hershey's Cocoa Massage and additional massage offerings and the Hershey's Cocoa Facial and additional facial offerings are the two signature services the spa will include.
MeltSpa by Hershey will include nine treatment rooms, locker rooms, and a relaxation area. Refreshments will include a multitude of drinks and snacks for guests to enjoy. The guests will be sipping on hot cocoa, coffee, tea and water. There will also be fresh fruit and trail mix for guests to snack on, too.
According to the media contact Reilly Fies, the building will have a modern design with rich brown hues and chic details. The facility measures 7,400 square feet, and the estimated cost for the project is $2 million. The spa will be partnering with Earl Swensson Associates, Inc., Laura Walker Spa Solutions, HB McClure Company, SECCO, Inc., and Weidner Construction Services. These partners will help design and build the great escape to peace and decadence.
Life just got sweeter with the new addition of the MeltSpa by Hershey. Both tourists and residents will now be able to enjoy some downtime.