HHS Boys Volleyball Falls to Lower Dauphin on Senior Night
The stands were full as the Hershey Trojans took on the Lower Dauphin Falcons at Hershey High on Tuesday, May 2nd, 2017. After four tight matches, the Trojans lost the game, leaving them with an overall record of 9-3 and a league record of 6-2.
The Falcon's started off the game winning the first set 25-20 and then going on to win the second set 25-13.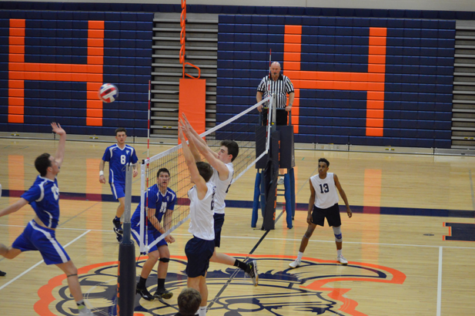 This built a fire for the Trojans and they came back winning the third set 23-25.
The Trojans started off with the lead for the fourth set when the referee issued a yellow card to both teams for 'talking through the net'. He then gave a warning of a red card for anyone who did so again.
A few points later the referee issued a red card to senior Moses Kresch. Kresch was then ejected for the rest of the game.
Soon after the ejection, Lower Dauphin won the set 25-23 and won the match.
Prior to the match Hershey honored seniors Nick Martin, Eric Krieger, Jack Quillen, Kai Lam, Moses Kresch, and Max Dadswell.