Hershey Wrestling Loses a Close Match to Garden Spot on Senior Night
Echo Rogers, Feature Reporter
February 7, 2017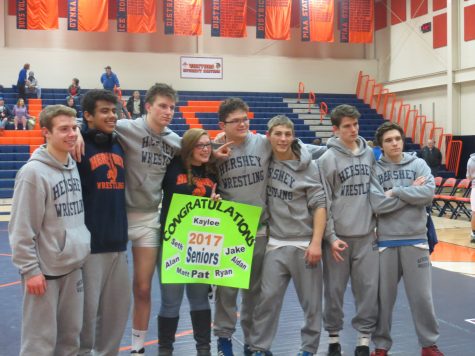 The Hershey Trojans lost to Garden Spot 30-45 on February 2, 2017 at Hershey High School.
The Trojans had a rough start, losing the first three matches during the 132, 138, and 145 weight classes. However, senior Ryan Schultz turned the tide with a pin against Garden Spot wrestler Drew Finkey.
Nyiem Flucas, one of Hershey's best wrestlers, continued to build the Trojans morale with a pin against Garden Spot in the match following Shultz' pin.
The Hershey Trojans continued to put up a good fight; however, they faced losses at the weight classes 170, 182, and 220. Aiden Donahue, HHS senior, was able to bring another victory for Hershey.
Even though the Trojans continued to wrestle well in the following matches, it was Ha-Jong Jhun who was able to bring the last win for Hershey High School.
This was the last match for the Trojans. For the seniors, it would be the very last time they'd wrestle for Hershey. That night they honored the following seniors: Patrick Ross, Kaylee Williams [manager of the wrestling team], Aiden Donahue, Jacob Gore, Matthew Lavelle, Alan Spicer, Ryan Schultz, and Seth Strohm.