HHS Teachers Teach For The Kids
By Jenny Kim
Exchanging adventure and excitement for stress and overtime work can be seen as crazy to most people.
For some college graduates, they know what to do right after college. Others must go through years before finding the right career. Hershey High School teachers Angela Grabuloff, Elizabeth Lemaster, and Damian Gessel have all changed their exciting  professions for one common goal: for the kids.
Elizabeth Lemaster, AP Calculus teacher, was an actuary at an insurance company for sixteen years. She would go on fancy business trips, stay at luxurious hotels, and dine at expensive restaurants. Her pay was satisfying and loved her coworkers.
Surprisingly yet, the corporate world did not seem right for Lemaster. "It just wasn't satisfying; I felt that I wasn't fulfilling my passion," Lemaster said.
Around 2001, she decided to quit. Now lost, Lemaster tried to find her dream career. She knew that she enjoyed training the newbies at the insurance company, so she decided that being a teacher would not be so bad.
Now some would say, why exchange a high benefits job for a teacher? For Lemaster, teaching might not pay well, but working with students and "helping them find who they want to be" is the best reward of all. To her, knowing that she made a difference in one child's day brightens up her whole life.
Angela Grabuloff, Civics teacher, similarly made a life changing decision like Lemaster. An Air Force Veteran, Grabuloff has traveled all over the world, mystery and exhilaration at every turn. That said, being stuck in a classroom all day would not seem like something Grabuloff would do.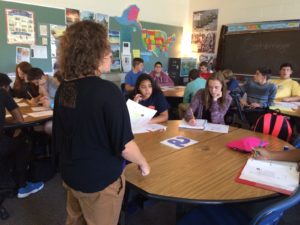 However, Grabuloff loved to communicate and advise. Those were few of the aspects that she enjoyed far more than traveling. Grabuloff has been teaching for eight years to students, each day becoming more interesting as the year goes on. She loves making teaching fun and hopes the students realize that learning can be fun as well.
Like the actuary job Lemaster had, Grabuloff thinks that teaching has many benefits as well. The interactions among the youth and the connections made are huge components that drive Grabuloff to keep teaching. Through the years, seeing former students come in just to say hello is a huge reward and keeps a smile on her face.
"Some moments fade, but the memories I have made as a teacher will stick with me forever," Grabuloff said.
Damian Gessel, journalism teacher, did not have much of a choice like Grabuloff and Lemaster did. After he was laid off his last job as a news journalist, he was lost and did not know what to do or who to become.
However, he never knew that he would end up on the doorstep of high school teaching. At first it seemed as a trial, something that he would consider doing. "After six years of teaching, I discovered that becoming a teacher was the most preeminent choice I have ever made," Gessel said.
As he felt that being a journalist was too easy, being a teacher challenges Gessel everyday. Anybody can write a good news piece, yet transferring that information and knowledge to twenty kids can be the ultimate task. To teach is much harder than to do; it is a mission that "requires both the brain and the heart."
"They say those who can't do, teach," Gessel said, "but I think it's the complete opposite."
But Gessel has found his dream job: wildly challenging yet highly rewarding. He loves the communication with the students and making them care about what they are learning. Lemaster and Grabuloff both agree, never regretting their decision to become a teacher. They do acknowledge that there have been some bumps in the road, but the connections with students always puts a smile on their faces.
"You could say," said Gessel, "that becoming a teacher was the best accident of my life."