The Hershey Company Sponsors Team USA
By: Emily Tubbs
Team USA will have plenty of chocolate for the next five years.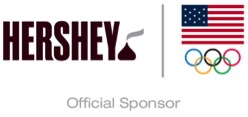 The Hershey Company officially announced a five-year partnership with the United States Olympic Committee (USOC) and will serve as an official sponsor for Team USA on October 14, 2015. Hershey will also support the U.S. Olympic and Paralympic teams through the Rio 2016, PyeongChang 2018, and Tokyo 2020 Games.
As America's popular confectionery leader, Hershey will collaborate with the USOC to create unique advertising that ties both passion and pride of Team USA with products from The Hershey Company.
The partnership with USOC will include the company's most famous product brands including Hershey's, Reese's, Hershey's Kisses, and Twizzlers. The company's newest products, Brookside Dark Chocolate and Krave Premium Jerky will be included along with the original candy products.
The USOC welcomes the Hershey Company with open arms. Lisa Baird, USOC Chief Marketing Officer, said  "We are thrilled to welcome The Hershey Company and its iconic family of brands to the Team USA family of partners."
"We know that Hershey's will demonstrate its support of America's elite Olympic and Paralympic athletes in exciting and innovative ways, and we sincerely look forward to celebrating with them on the Road to Rio and beyond," said Baird.
Throughout the years of the partnership between the USOC and The Hershey Company, Hershey will have the opportunity to develop scalable brand programs across some of America's most iconic dessert and snacking brands.
In addition to company's agreements with each other, Hershey will secure exclusive sponsorship and promotional rights from the USOC and will be able to use those rights in their advertising, on packaging, merchandising, and more.