HHS Sophomore Sammy Steele commits to Arizona State University for ice hockey
By: Bella D'Adderio
For most, ice hockey is just a sport. But for sophomore Sammy Steele, it's a lifestyle.
Sammy Steele, a sophomore at HHS, recently committed to Arizona State University to not only get an education but to also be part of their division one hockey team, the Sun Devils.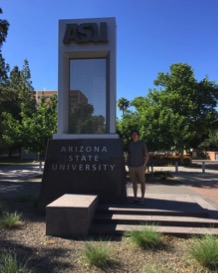 Looking up to the Hershey Bears at a young age, Steele's father took him to the games where he quickly gained interest in the sport. Shortly after, Steele began taking roller hockey lessons at five years old, and three years later he began the sport of ice hockey.
Over Steele's lifetime, he's played for multiple teams. Although he is currently in off season, he plans on playing for the Under 16 Westchester Express next year.
As for years ahead, Steele intends on staying in North Dakota his senior year of high school and the year after as a gap year with a billet family. A billet invites junior players into their home to be part of their family during the hockey season. Here, he will have the opportunity to play for the Fargo Force Prospects, a Tier 1 junior ice hockey team in the USHL.
Even more impressive, Steele has been drafted by the Kitchener Rangers Rangers in the 8th round.
Throughout the nine years Steele has been playing hockey, this year has truly been his favorite as he began to get drafted.
"I got recognized for all my hard work," Steele said, "It was nice to see it all pay off."
Although ASU was not the only offer he received. Steele had the opportunity to play for over half a dozen universities that were Division 1, including Penn State University, Boston University, and University of Maine.
Out of all the places Steele was offered, ASU seemed like the right choice, as he is excited to be part of an upcoming Division 1 team.
Steele's sister, Mia Steele, is also currently a student an ASU, and has been a positive influence to his decision due to her love for the school.
But that's not the only reason Steele wanted to become a Sun Devil, he also enjoys the campus and feel at ASU, where over 40,000 students attend.
"I love the atmosphere and big university life," said Steele.
While attending ASU, Steele plans on finishing all four years while playing hockey in addition to getting a degree in sustainability. This way, if Steele gets hurt or doesn't make it as far as he wants, he can also get an education.
"It feels great to be committed at such a young age." Steele said, "I already have my future set up in college."
Although for Steele, getting all his recognition wasn't easy. He works hard on and off the ice, traveling to various places for practices, games, and tournaments. This includes Quebec City, Toronto, Chicago, Detroit, Buffalo, and Edmonton.
Despite being away from home, Steele enjoys traveling as he feels it's a good way to bond with his teammates. In addition, he feels it's nice to have the opportunity of traveling to various places rather than staying in Hershey.
Steele is more than grateful for all the opportunities he has had, as he hopes all his hard work through the years will get him a chance to play in the AHL for the Hershey Bears and eventually even in the NHL for the Washington Capitals.
For now, being committed to ASU is all Steele could ask for.
"It's really an awesome feeling to have a full scholarship," Steele said. "All my hard work has paid off."