By: Abby Shapiro
Antonin Scalia, a conservative giant on the court and a stanch believer in the powers of the Constitution,  passed away at 79 years old, on February 13, 2016.
Born on March 11, 1946 in Trenton, NJ, Scalia was a lawyer in the 1960s.  Later he worked in public service in the 1970s with responsibilities in President Richard Nixon's general counsel office and as Assistant Attorney General. In the '80s Ronald Reagan appointed him to the D.C. Court of Appeals and then to the Supreme Court in 1986.
According to the New York Times, '"He was an extraordinary individual and jurist, admired and treasured by his colleagues," Chief Justice John G. Roberts Jr. said in a statement confirming Justice Scalia's death. "His passing is a great loss to the Court and the country he so loyally served," Roberts said.
Scalia was found dead after a day of quail hunting and dining at a West Texas ranch and reportedly died from natural causes. Later it has been assumed that his death was due to heart trouble and high blood pressure. John Poindexter, owner of the ranch, said, "He had obviously passed away with no difficulty at all in the middle of the night."
Scalia's death created a debate on whether President Barack Obama should fill the seat. Obama said he is planning to nominate a replacement. Some politicians agree with Obama, and some say the replacement should wait.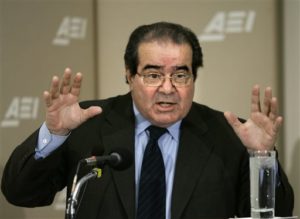 There are many questions arising about Scalia's sudden death. According to The Washington Post, "Presidio County Judge Cinderela Guevara pronounced Scalia dead of natural causes without seeing the body — which is permissible under Texas law — and without ordering an autopsy." Justice of the peace in Presidio, Texas, Juanita Bishop, said "If it had been me . . . I would want to know," regarding how Scalia's death occurred.
According to Click2Houston, Regarding Scalia's death, Poindexter said, "We had lunch and then walked on a tour of the ranch. [Scalia] did not exert himself at all. He had a pleasant time. He was his usual personable self, not exactly the life of the party, but certainly a participant."
Many effects of Scalia's death have been swarming around in the minds of politicians. ABC news said due to Scalia's death, there is a possibility of 4-4 ties with only the eight justices on the court. This means the "union victory in the lower court would remain in place."
CNN said, "Two additional federal appellate judges are among those being considered by the White House to replace late Justice Antonin Scalia."