National Ice Cream Day: July 17
Ice cream is by far the best treat to have on a hot summer day. This frozen desert is an American staple—it's creamy, flavorful, and delicious! 
Americans celebrate National Ice Cream day on the 3rd Sunday in July to honor the nation's favorite frozen treat. In 1984, President Ronald Reagan chose this date as National Ice Cream Day and the month of July as National Ice Cream Month.
Today, go out and enjoy a huge cone of ice cream! Or, try an ice cream sandwich, a milkshake, or even a slice of ice cream cake. National Ice Cream Day is all about not feeling guilty about the amount of ice cream you eat. (Or drink!)
Another great thing to do on this day is make your own ice cream. There are a million different at-home ice cream recipes you can try with your family and friends. Try the chocolate ice cream recipe below!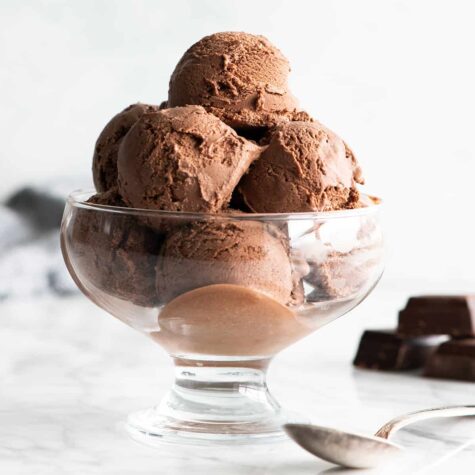 Homemade chocolate ice cream recipe made with the Allrecipes recipe below. 
Recipe for Chocolate Ice Cream 
Cook: 10 minutes 
Total: 4 hours 
Servings: 8 
Yield: 8 half cup servings 
Ingredients:
¾ cup sugar 
1 cup milk
¼ teaspoon salt 
2 tablespoons unsweetened cocoa powder
3 egg yolks, lightly beaten
2 ounces semisweet chocolate, chopped 
2 cups heavy cream 
1 teaspoon vanilla extract 
Directions: 
Step one
Combine sugar, milk, salt, and cocoa powder in a saucepan over medium heat, stirring constantly. Bring to a simmer. Place the egg yolks into a small bowl. Gradually stir in about 1/2 cup of the hot liquid. and return to the saucepan. Heat until thickened, but do not boil. Remove from the heat, and stir in the chopped chocolate until chocolate is melted. Pour into a chilled bowl, and refrigerate for about two hours until cold, stirring occasionally. 
Step two
When chocolate mixture has completely cooled, stir in the cream and vanilla. Pour into an ice cream maker, and freeze according to manufacturer's directions.