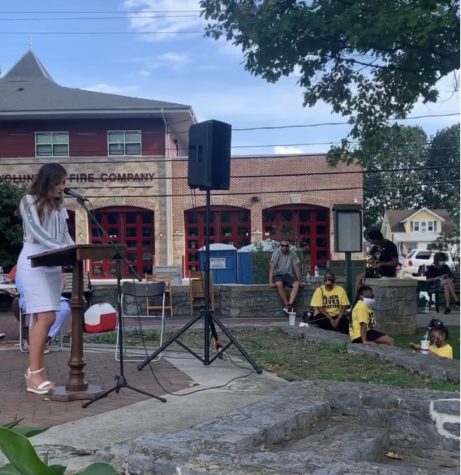 Following the nationwide protests over racial injustice, an educational initiative has started in Hershey to combat racism and challenge long-held silence in the Chocolate Bubble. 
After an active summer of following and attending Black Lives Matter protests, Hershey alumni Sarah Gethers and Rachel Hoover sought a way to familiarize the local area with the movement and spread its messages of racial equality. 
On August 22, 2020, the two held an event called "Why Black Lives Matter: An Educational and Celebratory Event" at Chocolate Town Park. The event paved the way for their new organization, called Why BLM 2020.  
This event's aim was to create a collective space where residents could learn about Black Lives Matter and the urgency of racism. Through a series of five speeches, each meant to develop further on the previous one, the audience heard about how internalized racism externalizes onto people of color in Hershey and beyond. The target audience was white community members.
The speeches can be viewed in their entirety on the organization's Instagram page. 
Why BLM 2020 was built on the foundational idea that whiteness entails internalized and implicit racism, especially in predominantly white areas like Hershey. Hoover spoke first, providing her perspective as a white woman and a recipient of white privilege. She was followed by Gethers, whose account of her experience as a black student at HHS offered a stark contrast. 
Additionally, Dr. Amber M. Sessoms, a school psychologist in the Central Dauphin School District, contextualized the issue of race in educational environments. Subsequent speeches focused on the origins of the police, the demand to "defund the police," and the importance of voting. 
Gethers said, "We wanted all the white folks in Hershey to be present, to be receptive, and to feel led to change their actions."
Although the event was constructed to be a singular occurrence, positive response from audience members at the event has generated momentum for the future of Why BLM 2020. A number of community members have highlighted the prospect of expanding the initiative into schools and workplaces. An employee at the Hershey Medical Center reached out to the two about potentially holding an online seminar for hospital staff concerning racism in medicine. 
For both alumni, the reaction was unexpected. Gethers said, "You make a dish for the first time, and it ends up being fantastic, and it's like, oh, maybe I'll cook this again."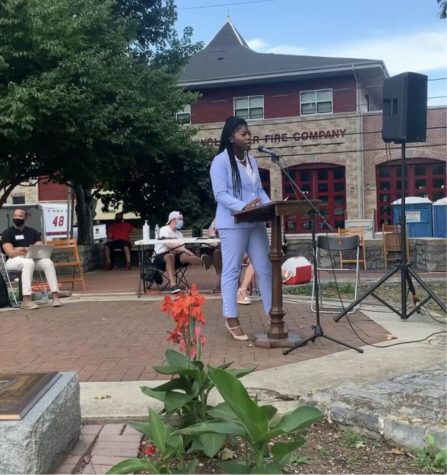 In preparation for the event, some of the organization's early outreach failed to turn up enthusiasm. The two hoped to gain support from Hershey educators and contacted all K-12 teachers at Derry Township with details of the event and their educational objective. Amid a few RSVP's, two attended, and one declined defensively.  
The hostility of the latter teacher had to do with their perspective that Hershey's education curriculum is sufficient enough to properly address racism. The teacher cited the mandatory Black History Month research project at Hershey Middle School as an example. 
Gethers spoke at length at the event of her challenging experience organizing a Black History Month assembly at HHS as a student and feels differently. She mentioned numerous administrative setbacks in her speech that had less to do with procedural conflict and more with uncomfortability around the topic of race. Her effort to reach out to Derry Township staff was in large part due to the deficiencies in how teachers approach race, something that can be detrimental. 
"Realistically speaking, there's so much influence that teachers and school have on kids," said Gethers. 
The decision to center the August event on education was tied directly to Gethers and Hoover's beliefs about the educational environment. According to Hoover, the civics and history courses are the most crucial aspects that need to be changed. 
"They're just so whitewashed, and I think that that is why so many people have trouble coming to terms with racism that's alive today because it totally breaks the narrative that they were taught," said Hoover. 
The immediate future for Why BLM 2020 is not set in stone, and the organization is still figuring out their plans. For attendees at the August event, the next steps can be individual efforts for education, such as reading or listening to podcasts about antiracism. 
Education on race is a long-term process that is crucial to change the experiences of people of color in small town communities, whose voices are generally excluded. The role of education in preventing further harm remains a central motivation for the organization. 
"One of the key things of education," said Gethers, "is realizing all the different perspectives and all the different effects of not addressing race through all lenses of living."