Bravo Buterbaughs!
Brian and Brandon Buterbaugh join Hershey's teaching staff
Every sibling relationship is unique. Some siblings hate each other. Others are as thick as thieves. For Brian and Brandon Buterbaugh, their brother is their coworker.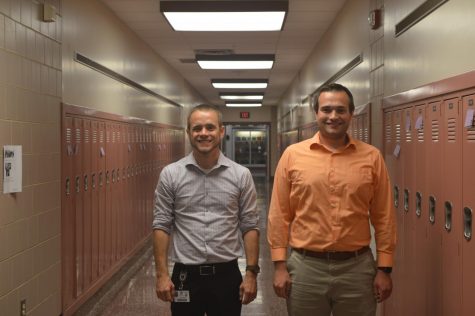 The Buterbaughs were recently hired as Hershey's new orchestra and band teachers. Brian Buterbaugh teaches orchestra at the high school and the middle school. Brandon Buterbaugh teaches Wind Symphony first period, Symphonic Band second period, and co-teaches 8th grade band with Mr. Miller.
Brian Buterbaugh has been drawn to Hershey ever since he was a student teacher with Mr. Woodbridge in 2010. He has been teaching music related classes for 10 years thus far. He taught for five years at Spring Grove High School and four years at Cedar Cliff High School and middle school.
"I had an amazing experience here [when I was a student teacher]. I really fell in love with the place and the kids that I got to teach at the time. I knew that if the opportunity existed where I could come back here and be a part of this, I would pursue that," Buterbaugh said.
Brandon Buterbaugh, on the other hand, recently graduated from West Virginia University. This is his first year teaching. However, he has a bit of previous experience. He was a graduate assistant with the bands at West Virginia University and, like his brother, he student taught at Hershey three years ago. Brandon Buterbaugh also said that he was "really drawn to the school and the students and always thought that this is the place I would want to eventually return to."
Both teachers have said that their experience so far at Hershey High School has been a positive one. They both mentioned that their students have been very hardworking and the faculty has been very welcoming. Brian Buterbaugh even mentioned that a lot of his students have "the same kind of competitive spirit that they bring to their sporting events" when it comes to learning.
The desire to be a music teacher runs in the Buterbaugh family. Both of their parents were music teachers, and it seems they passed that trait down to their two children. However, neither of them made the final decision on their music teacher aspirations until they were in their adolescence.
Brian Buterbaugh always knew he wanted to study music, but he had always relied on his natural talent rather than practicing and working hard. In 11th grade, however, he discovered that "hard work beats talent when talent doesn't work hard," and finally decided to devote his time and energy into his dream.
Brandon Buterbaugh made the decision earlier. He said that in middle school he had an amazing music teacher that made him realize "I want to do what you do," as he said. That teacher spurred him into action and inspired him to pursue a music career in education. 
Working in the same building is also a brand new experience for the brothers, and they both enjoy having each other in the building. Now that they are meeting back up as adults, they are getting closer than ever before. The two of them are rather far apart in years,which means their age gap held them back from becoming too close in their childhood.
Jeff Smith, HHS principal, helped decide whether or not the Buterbaugh brothers would be hired. "They seem like they're absolutely fabulous individuals, and so far it's been spectacular," Smith said.
The students share a similar view. According to Junior Carson Pedaci, Brandon Buterbaugh is a great leader and an overall good teacher. Brian Buterbaugh, on the other hand, was said to be "very energetic and passionate about what he is teaching. You can tell that he really cares about his students and wants them to succeed," Junior Benji Keeler said.
Many are very excited for what the Buterbaughs will bring to Hershey; the Buterbaughs will be bringing their new ideas to Hershey for a long time to come. Brian Buterbaugh said that he wants to stay at HHS "until I drop dead."
About the Writer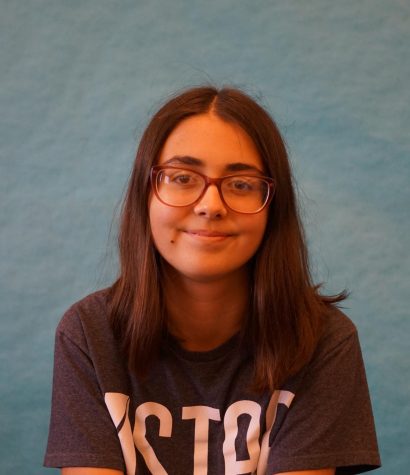 Alina Zang, Assistant Layout
Alina Zang is a Sophomore working as the Assistant Layout for the Broadcaster. This is her first year working for The Broadcaster. She enjoys writing,...