PA Game Commission moves deer rifle season
The Pennsylvania Gaming Commission voted on April 9, 2019 to move the opening day of deer rifle season to the first Saturday after Thanksgiving, November 30. This move of the opening date will shorten the turkey hunting season by two days and expand the current bear hunting season drastically.
In a 5-3 vote, the commission finally cemented the new start date after a preliminary approval in January of this year. The age-old tradition of hunting season starting the Monday after Thanksgiving will no longer exist.
"Since 1963, rifle season for hunting deer in Pennsylvania began the Monday after Thanksgiving," said Pennlive.
According to Fox 43, this sudden change is to create more opportunities for hunters while also staying up to date with Pennsylvania's changing hunting demographics.
As a result of the move, commissioners are expanding the firearms season to 13 days. In the current season schedule, there are only two Saturdays included. Because of the advancement, in the new schedule there are three.
For turkey hunters, not all of it is good news. The turkey hunting season will be reduced by two days because of the expanded deer hunting season.
Changes to the bear hunting season would be the most drastic. In order "to increase bear harvest and to hold the state's bear population at no more than its currently estimated 20,000," the commissioners gave preliminary approval to several changes, including expanding the mid-October muzzleloader and special firearms deer seasons to include bears throughout any part of PA; making the duration of the statewide archery bear season two weeks, and also changing it to the two weeks after the "muzzleloader and special firearms bear seasons." Another change would be, "…expanding four-day extended bear seasons to six days in most wildlife management units where they are held," according to Pennlive.
Chronic wasting disease has recently been severely affecting the deer population in PA. It is always fatal, with no effective disease prevention or vaccine, and no treatment.
"It is spread through direct contact with saliva, feces and urine from infected animal or contaminated environment," Pennlive said.
Since wildlife agencies are driven by hunter and game related problems, Christopher Rosenberry, supervisor of the commission's Deer and Elk Section, has proposed a solution to the problem of CWD; to increase the number of antlerless deer hunting licenses.
The number of doe licenses in PA is now more than 900,000, which comes because of Rosenberry and the commission's recommendation.
"The increase of 65,000 antlerless license – nearly 8 percent – was recommended by commission staff for wildlife management units," said Pennlive.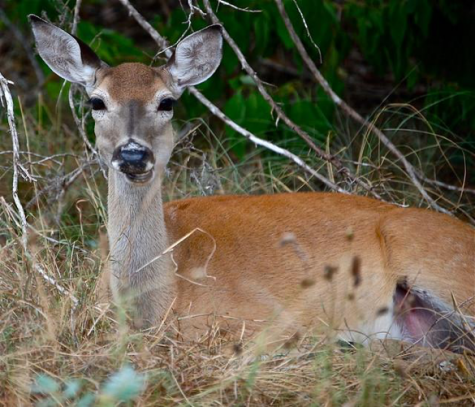 About the Writer
Haley Daniels, Reporter
Haley Daniels is a reporter for the Broadcaster. She is a senior at HHS and has been a part of the Broadcaster for three years. Haley enjoys dogs, lacrosse,...