Tropical Smoothie Cafe Isn't Healthy As You May Think
Since the addition of Tropical Smoothie Cafe downtown, it's inevitable to crave smoothies. But while they may seem like a healthy alternative to milkshakes and sodas, smoothies can pack just as much sugar and calories.
The average amount of calories and sugar among all of Tropical Smoothie Cafe's smoothies is about 495 calories and 90 grams of sugar.
The highest amount of sugar is in the Mocha Madness, with a whopping 132 grams, or 32 teaspoons, in one smoothie. This exceeds the suggested daily intake of 7-9 teaspoons by 24.5 teaspoons.
The lowest amount of sugar in a Tropical Smoothie is 29 grams, in the Detox Island Green. While this may seem reasonable, it is significantly lower than the majority of their smoothies and is even still over the average recommended serving of 25 grams.
As for the food, the calorie and fat content is about average but on the higher side. The American Heart Association recommends about 13 grams of saturated fat per day. The sandwiches, wraps, flatbreads, and bowls at Tropical Smoothie range from 1.5 to 14 grams of saturated fat with an overall average of 7.5 grams.
Any Tropical Smoothie Cafe smoothie is certainly a dessert, whether you get a superfood smoothie or an indulgent smoothie. However, for anyone who gets smoothies regularly or is relatively health-conscious, superfood smoothies with any of the healthy add-ins are the best option.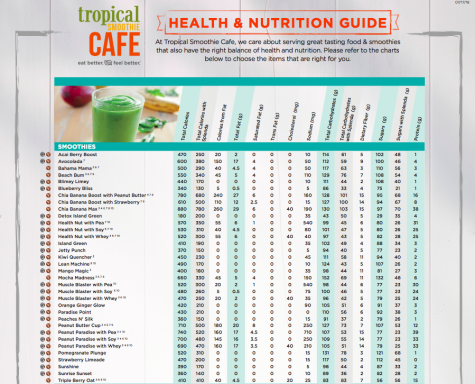 About the Writer
Carina Sarracino, Feature
Carina Sarracino is a Feature Editor for the Broadcaster.  She is a senior at Hershey High School and a third year member of the Broadcaster staff. Carina...