Kidnapping Victim Escapes After Three Months in Captivity
Thirteen-year-old Jayme Closs was abducted for three months but escaped.
Closs lives in Barron, Wisconsin where she was kidnapped by 21-year-old Jake Patterson in October. Closs was missing for three months and escaped when Patterson left the house. There had been a fifty thousand dollar reward for anyone who saved Closs.
The New York Times reports the crime started when Closs was getting on the school bus. It was then when Patterson saw her and decided to pursue her.
In the days that followed, the kidnapper mapped out his plan to abduct the 13-year-old. Patterson stole a shotgun from his father, changed his license plate, bought a mask, and shaved his head.
On a late October night, Patterson went into the Closs's home where he shot Jayme's father. After that, he forced his way into the bathroom where Jayme and her mother, Denise, were hiding. Patterson made Denise put black tape on her daughter, and then proceeded to kill Denise. All of this happened within four minutes.
Patterson tied up Closs and forced the teenager into the back of his truck and transported her to a cabin.
She was shoved underneath a twin-sized bed blocked by weights while Patterson had his friends over.
CNN reports three months later, Closs had the opportunity to escape when Patterson was gone for several hours. She pushed the weights aside and ran out of the house.
Jeanne Nutter saw Closs while she was out walking her dog near Gordon, Wisconsin. Closs called out to her for help.
Nutter said "…she was walking towards me, crying, saying 'You got to help me, you got to help me.'"
That woman took Closs into the nearby home of Kristin and Peter Kasinskas who recognized Closs immediately from news reports. Kasinskas called 911 to let the police know Closs was alive and well.
The authorities are still deciding who to give the $50,000 to because the Kasinkas wouldn't accept it. The Kasinskas said if anyone should get the money, it should be Closs.
The Kasinska's said, "She got herself out," and that "…she deserves the money."
Here are some updated recent photos of missing and endangered 13 yr old Jayme Closs. Please contact Barron County Sheriff's Office tip line at 1-855-744-3879 with any information. pic.twitter.com/yXrhD4Zrnv

— FBI Milwaukee (@FBIMilwaukee) October 16, 2018
About the Writer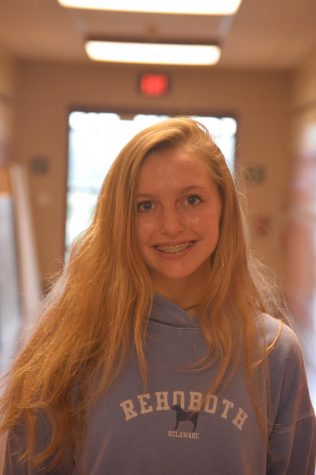 Abbey Massage, Reporter
Abbey Massage is a news reporter for the Hershey High School  Broadcaster. This is her first year writing for the Broadcaster. Massage enjoys diving,...