Review: Troye Sivan's single "Bloom"
Troye Sivan released a new single called "Bloom" on May 2, 2018.
Sivan is a young artist whose popularity is growing faster and faster. He's an artist who is unafraid to express his sexuality through music, like other artists Hayley Kiyoko and Kehlani.
Sivan released his debut album Blue Neighborhood in 2015, along with a trilogy of three music videos that tell the story of a relationship between two teenage boys. The videos have 103 million views all together.
Sivan gained his popularity through uploading covers of songs on YouTube. On May 5, 2013, he released his first official song called "The Fault In Our Stars," based off the popular John Green novel. After that he released his debut EP called TRXYE.
The song "Bloom" is his third single from his second album. The first single was "My My My!" which was released on January 10, 2018.
The lyric video for "Bloom" was released with the single. In the video, a mannequin-style Sivan is seen in a greenhouse. Throughout the video, he floats around in iridescent lights.
"Bloom" starts with a chill beat, contrasting his first single "My My My!"'s style. The song is dominated by drums that give it an early 90's pop feel. Unlike Blue Neighborhood, an album all about growing up and nostalgia, "Bloom" is all about living in the present moment.
Sivan's falsetto on the chorus is full and powerful. His voice fits the song and gives the song more emotion as the it goes on. Although the song is good for it's genre, it would be good to see more variety in Sivan's music.
On May 11, Sivan showed a photo on his Instagram story with a picture of a CD case and writing all around the photo. In the post, Troye confirmed that his album is now fully mastered and ready to be released. He also hinted that Ariana Grande would make an appearance on the album.
Sivan was a special guest on Taylor Swift's tour at the Rosebowl in Los Angeles. After performing "My My My!", Taylor announced the date of his new album.
The new album "Bloom" will be released on August 31, 2018.
The lyric video for "Bloom" was released on May 2, 2018. Sivan announced his new album's release date after performing with Taylor Swift on tour.
About the Writer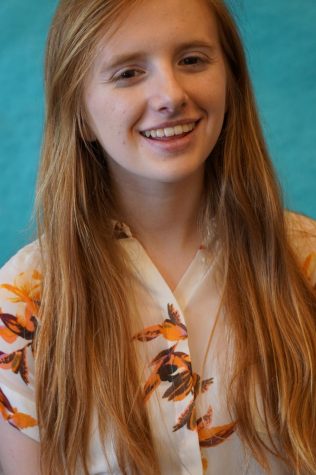 Natalie Taylor, Layout Designer
Natalie Taylor is the Head Layout Manager for the Broadcaster. She is a senior, and this is her third year writing for the Broadcaster. She enjoys theater,...