National S'mores Day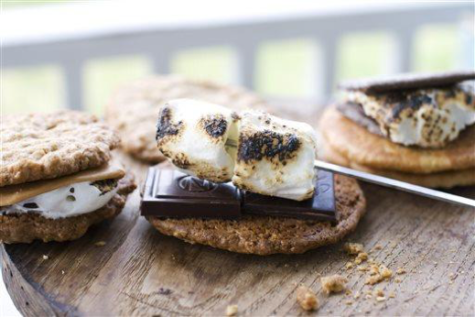 On August 10, we celebrate National S'mores day.
A "s'more" consists of chocolate and a marshmallow sandwiched between two graham crackers. The chocolate-marshmallow-chocolate treat is said to be first seen in the 1927 publication of Tramping and Trailing with the Girl Scouts, according to National Day Calendar. They were allegedly named "s'mores" because of the contraction "some more."
Although the beginning of chocolate traces back to the ancient Mayans in about 1500 BC, it took much longer to come to America. It came in the late 1600s to America. Shortly after chocolate arriving in America, it's thought that the first American chocolate house opened in Boston in 1682, according to History.com.
Graham crackers' history begins with a man named Sylvester Graham, according to
Now I Know. Graham was a Presbyterian minister who invented the crackers in the early 1800s. The main reason for his invention of them were his strong religious beliefs. He had a strict vegetarian diet that excluded white flour and spices, which lead to his creation of the graham cracker.
When it comes to marshmallows, according to Boyer Candies, they are made from the sap of the mallow plant. Their history begins over 2000 years ago in ancient Egypt, where Egyptians would make the candies for their Gods. Ancient Romans also loved the mallow plant, believing it cured sore throats and pains.   
This classic desert has many different renditions of the classic plain graham cracker, marshmallow, and milk chocolate. A couple different types can be found on Delish, and include pumpkin pie, chocolate chip cookie, caramel apple, and s'mores-filled waffles.   
National S'mores day just gives you another reason to enjoy a delicious campfire treat!
About the Writer
Haley Daniels, Reporter
Haley Daniels is a reporter for the Broadcaster. She is a senior at HHS and has been a part of the Broadcaster for three years. Haley enjoys dogs, lacrosse,...