SpaceX Successfully Tests Falcon Heavy Rocket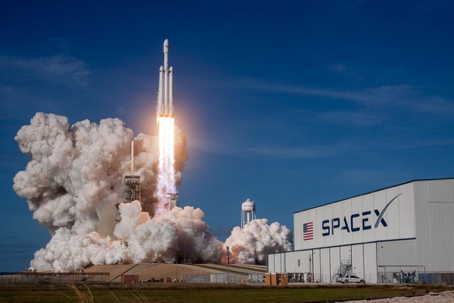 SpaceX successfully launched the Falcon Heavy rocket for the first time on February 6, 2018.
The rocket was successfully launched from Kennedy Space Center in Florida, carrying SpaceX and Tesla CEO Elon Musk's' 2008 Tesla Roadster as its cargo, with plans to put the car into orbit around Mars. The launch was streamed on YouTube, receiving over 20 million views as of February 14, 2018.
With 5 million pounds of thrust, Falcon Heavy is the most powerful rocket currently in production, and the third most powerful rocket of all time.
Falcon Heavy was made by attaching three Falcon 9 rockets side by side. Falcon 9 rockets are small and reusable, and are used by SpaceX for the majority of missions. After takeoff, two Falcon 9's successfully landed back on earth, and the third crashed into the ocean.
Musk praised the launch, "I think it's going to encourage other countries and companies to raise their sights and say hey we can do bigger and better, which is great."
"We want a new space race," Musk said, "Races are exciting."