Taylor Swift's Return Blows Fans Away
Hang on for a minute...we're trying to find some more stories you might like.
After a two-year hiatus, Taylor Swift is back with new music.  
After staying away from the public eye and taking a break from making music, she's coming back in full force with a follow-up to 2014's 1989 album. Swift's sixth album, reputation, will be released on November 10.
Swift recently announced the new album on her Instagram and Twitter by posting small clips of a snake and pictures with subtle hints. These hints include the release date of the album, the album cover, and the release date of the first single from reputation, "Look What You Made Me Do."
"Look What You Made Me Do" came out on August 24. The song's lyric video broke the record for most viewed within the first 24 hours of its release. The next day, Spotify announced that Swift had broken the record for the first day of streaming with 8 million plays. The single's music video was released at the MTV Video Music Awards, earned 43.2 million views on Youtube, and broke the record for most viewed video in a day.
So far, she is the only woman to top the Billboard Hot 100 chart, taking the spot from Luis Fonsi and Daddy Yankee's "Despacito." On YouTube, she was the number one trending topic for a few days.
Her second single "…Ready for it?" came out on September 3. Swift announced it on her Instagram story with a video of a small portion of the song played over short clips of the Alabama vs. Florida State football game. The song soon reached number one trending on YouTube, iTunes, and Spotify.
A lot of hype is surrounding these new songs, but there are mixed reviews on Swift's new style. Swift has strayed from her pop and upbeat roots in favor of something more dark and alternative. Some claim they hate it because they liked her pop/country style, but others seem to enjoy the new style, thinking that it's good for her to change.
While some things have changed stylistically, Pitchfork writer Meaghan Garvey thinks Swift's lyricism has remained the same.
In Garvey's review of the album, she stated, "In her past work, Swift has flexed a real talent for molding real-life experiences into clue-filled allegories, at once personal and universal. Here, she's uncharacteristically un-nuanced, and when she slips in hilariously artless digs like 'I don't like your tilted stage,' it sounds like the part of a break-up when you start hurling all the banal insults you've got left."
Swift is preparing to go on tour to promote this new album. She's partnering with Ticketmaster for a new program called "Taylor Swift Tix," which gives fans a better chance of getting tickets to her shows by buying her merchandise, pre-ordering reputation, and engaging with her on social media. Swift decided on this method to avoid bots and scammers that steal tickets, and she hopes it will give her true fans a chance at getting tickets instead.
Swift's new style could influence other popular artists to step out of their comfort zones, too. Artists like Kesha and Panic! At The Disco, are starting to branch out from their original roots to more styles that they're not used to performing and singing, creating new styles with every album or song.
There is also a lot of hype surrounding new merchandise, Swift's new tour, and her album in general.
Fans are writing comments on iTunes such as, "Probably the most hype album yet, just preorder it cause you know it's gonna be an album to remember."
Even if fans find Swift's new style to be a disappointment, it's unlikely they'll ignore her reappearance.
About the Writer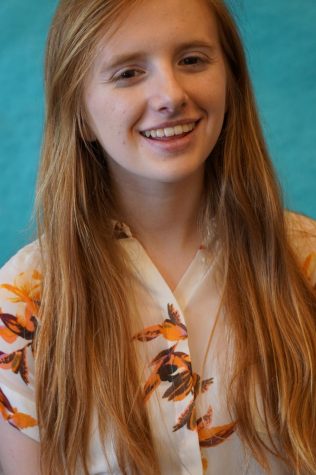 Natalie Taylor, Layout Designer
Natalie Taylor is the Head Layout Manager for the Broadcaster. She is a senior, and this is her third year writing for the Broadcaster. She enjoys theater,...