Bring back school-issued printed planners
Iliana Vequilla, Reporter
September 28, 2017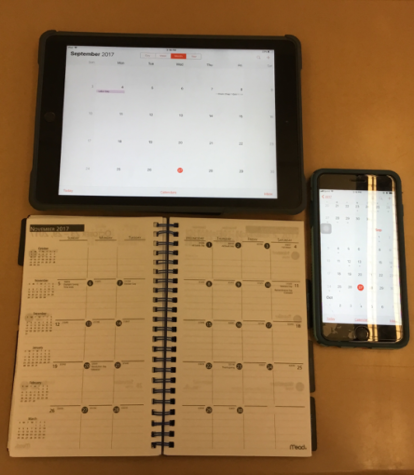 DTSD has not provided Hershey High School students with student planners for the 2017-2018 school year, even though it's a necessity for organization and planning. Print planners are the most efficient way of organizing school activities and assignments.
According to the HHS student council advisor, Barbara Clouser, the student council voted for eliminating school issued planners four years ago because it cost $1,800 each year. They were only kept until last year because of the hall pass on the back of the planner. Now with the introduction of one-to-one with iPads, the printed planners are not needed.
A new electronic hall pass app, PassWhiz, for the iPads will receive the $1,800, which Clouser said was way too much money for student planners. This decision to replace the print planners has become an issue for the students that relied on it to remind them of their homework and helped them stay organized.
DTSD students were lucky enough to receive iPads, which contain calendar apps that have many features to work with. These applications can detail tasks to one's liking and send reminders daily.
Even if it is the age of smart electronic devices and the Internet, that does not mean that DTSD should suddenly get rid of such an efficient way of organizing our school activities and assignments.
School issued planners specifically fit students' needs and space. They were the perfect device for organizing tasks and activities; these planners gave students the space to personalize it and use it productively.
Print planners also apply consistency to organization methods for all students. Now without the planners, there is not one solid method that everyone can rely on.
They additionally give you the freedom to create a system that works for you. It takes less time than opening an app and having to press "add event" or many other different variables. There are no pop-up ads or upgrades every month.
Personalization has also helped maintain the increasing necessity for paper planners and assignment books. You can create a system that works for you the way you want. The contemporary world requires reliable planners, and time management can be taught through the use of planners.
What about the fact that iPads can distract us from the task in hand? These devices hold so many distractions, as students are allowed to download games and many different apps on their iPads. There are so many beeps, alerts, and notifications that can heavily distract a student.
"I prefer paper as it is more reliable and easier to use," said Brianna Dean, a sophomore at Hershey High School.
On the first day of school for the 2017-18 school year, many students were heard asking "what about the planners," and after hearing what had been ultimately decided, many students were disappointed.
As students, let's request for the reissuing of print planners for the 2018-2017 school year by contacting our class representatives and demanding that they take this idea into account.