DTSD goes 1-to-1 with iPads at HHS next fall
Derry Township School District will spend more than $800,000 over the next three years to go one-to-one with iPads in the high school.
Hershey Middle School has been one-to-one with iPads for the 8th grade for several years. Now, DTSD's school board has voted to enlarge the one-to-one program.  Starting next fall each student at HMS and Hershey High School will be receiving an iPad to use for the 2017-2018 school year.
Every iPad will be brand new, said David Sweigert, Director of Infrastructure Technology. DTSD plans to purchase a total of 2,300 iPads, each one having 32GB of storage available.
The contract with Apple stipulates payment of $801,049.94 over three years. DTSD has agreed to lease 2,300 iPads from Apple rather than purchase them.  (Broadcaster via DTSD Board Minutes)
The iPads are leased instead of bought, so DTSD is able to replace the iPads every three years to have up-to-date technology, according to Sweigert. Leasing gave the school district the ability to get 2,300 iPads for a single year but spread payments over three years, said Sweigert. Apple also offered some benefits such as cases and professional development from Apple.
Overall, leasing the iPads was a better option than buying them for various reasons. Sweigert said that the cost of the iPad itself was about the same, but the hidden values of the lease were apparent in a few areas. For one, Sweigert stated that Apple is allowing the school to pay for the iPads over a three year time period with a zero percent interest.
Along with the zero percent interest, Apple is offering many value adds such as free unboxing, inventorying, casing and delivery, several days of Apple Professional Development, a free Apple iOS and Network support agreement, upgraded warranties on each iPad, and six caching servers to handle the load of iOS updates and apps.
"It would be hard to put a price on the value adds, but I would say it is easily $25,000 worth of additional services and equipment," Swigert said.
Students will receive their iPad on the first day of school and keep them until the end of the year.
According to Traci Landry, Director of Instructional Technology, iPads will be a big change that will benefit each student in the school. Students will use them for education purposes in all classes. Because all students will have access to the same mode of technology, classroom operations should run more smoothly.
"When we have a dedicated device for every student, learning changes inside and outside of the classroom," said Landry.
Similarly, HHS English teacher Derek Dietz believes that providing each student with the same technology ensures equal opportunity among classmates. He said he can't think of any teacher that wouldn't want that for their students.
Each student having their own device allows for each student to be doing the same activity on the same mode of technology, versus one person using an iPhone, one using a laptop, etc., said Laura Wade, Assistant Principal of HHS.
Not only will students benefit from the new iPads, but teachers will as well. Because they can plan out daily lessons better, class time will run  more smoothly, according to Wade. Currently, time is wasted to log on, shut down, etc., and the iPads will hopefully eliminate that.
"The iPads will get rid of students excuses for not being able to participate in an activity, which will essentially make the teachers' jobs easier," said Wade.
Additionally, iPads will allow students to have more creativity. The big picture with these iPads is to promote creativity, and in order for students to be more innovative, they need to be given the most up to date resources and tools.
"Creativity is practically unlimited with the iPad," said Dietz.
Dietz believes he has more options as a teacher in his classroom. Every one of his students will have access to free ebooks and other various databases. There are a number of projects in classes that he teaches that can utilize iPad technology to achieve powerful, creative results.
With many new ways to innovatively teach his students, Dietz is excited about introducing a new teaching method, despite possible challenges. He said that implementing new devices is never easy. Although he knows it may not go perfectly, he is excited to have more flexibility with his lesson plans and more student accessibility.
Dietz does not want students to worry about the change, for he will not completely change how his classroom runs. Additionally, Wade wants to assure students that the iPads' purpose is to benefit them and to expand learning opportunities.
"The school is not out to make anyone upset over the iPads because essentially, the iPads are here to help achieve student success," said Wade.
Anxious students may be worried about changes to the district's Bring Your Own Device (BYOD) policy. The policy allows students access the schoolwide internet on their own device such as a laptop, iPad, cell phone, tablet, etc., and they can use their own device to do classwork. The current policy has been in place for years, but because all students will have the same device, it may change. According to Wade, the new policy will ultimately be decided by next year's new principal.
The new BYOD policy rules will be made so HHS can be a safe and supportive learning environment. Wade said rules are not made to restrict students, but rather increase productivity and decrease distractions.
"Rules must be set so that successful learning can be accomplished," said Wade.
One rule that will always stand is the cell phone policy. The use of cell phones will be teacher based. Teachers are able to access their own classroom, and they will tell administration what they need from their students specific to their classroom. If teachers do not want cell phones to be admitted in their classroom, then they will tell administration, and administration will make sure the rule is enforced.
Wade believes students should know not to abuse their cell phones even before the iPads came into play. Students are expected to attend their learning responsibilities and not abuse their cell phones, with or without an iPad.  
Fortunately, the issue of cell phones and distraction with iPads is not an extremely large issue here at HHS according to Landry. Our district is fortunate to have the kind of people in this community that we have; people are excited and willing to experiment. She is excited about the ability to expand and be innovative with technology.
"It is such an empowering thing that everyone is so willing about these iPads, and that can leave us to be very excited for the future," said Landry.  
About the Writer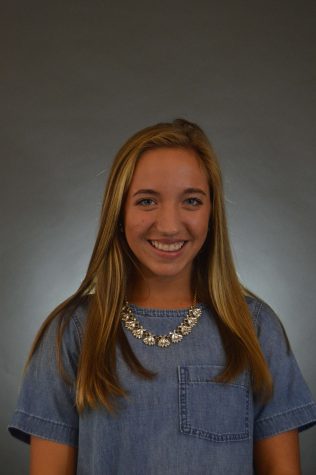 Meredith Gould, Reporter
Meredith Gould is a reporter for the broadcaster. This is her first year on the Broadcaster staff. Outside of school, Meredith enjoys diving, traveling,...