Hershey Students Cope with Parents on the Frontline Fighting the Virus
While most of the country is on pause, medical personnel are hard at work every day to help fight COVID-19. Many Hershey High School (HHS) students have parents working on the front lines of this pandemic. 
Jenna Baker
Junior Jenna Baker's mother is Dr. Maria Baker, Professor of Medicine and Geneticist at the Penn State Hershey Medical Center. 
Since the virus began spreading in Pennsylvania, Baker said her mother has been putting in extra hours at the hospital, so the rest of her family has had new responsibilities. 
"It has definitely made us rethink how we work as a family," Baker said.  
Baker and her family are wearing masks and gloves in the grocery store, as well as washing hands frequently. 
"I'm sure tons of people appreciate the work that she and other health care workers are providing," Baker said. 
Kate Clark
Kate Clark is a senior at HHS, and her father, Dr. Brian Clark, is a Pediatric Cardiac Surgeon at the Penn State Health Medical Center.
The Clark family has seen many changes in their day-to-day lives since the start of the spread of COVID-19.  Clark said her parents have become more strict about her and her family leaving the house, especially since her father works at the hospital. 
"My mom bought my entire family masks for us to wear every time we leave the house," Clark said, "My dad, prior to coming in the house, now takes off his scrubs, shoes, and coat before coming inside." 
Michael Cronin
Junior Michael Cronin's father, Dr. Arthur Cronin, is an anesthesiologist at Pinnacle Health. 
Cronin's family members are all now back home in Hershey, and they have been taking social distancing very seriously. 
"We only have one person go to get groceries every few days," Cronin said, which is an important precautionary measure to help decrease the risk of any possible exposure. 
"The hospitals he [Dr. Cronin] works at have taken many steps to limit the spread of the virus including increasing the use of PPE (Personal Protection Equipment), canceling all elective surgeries, and updating their intubation procedure," Cronin said. 
Paul Ioffreda
Paul Ioffreda is a senior at HHS. His father is a dermatologist and a dermatopathologist at the Penn State Hershey Medical Center, and his mother is a nurse at the University of Pittsburgh Medical Center (UPMC) and the Endoscopy Center of Central Pennsylvania. 
Ioffreda said his house has been packed recently because his two older brothers returned home from college. 
While Ioffreda's parents have been working less because not everything they do is not considered essential, he said, "My dad was recently asked to help screen patients who think they may have the virus over the phone from home." 
Ioffreda's family is taking social distancing seriously, and they are wearing gloves and masks when they need to leave the house. 
"It's nice having people in our house who are very knowledgeable about what's going on as there are a lot of myths about what is true," Ioffreda said.
Manisha Kodavatiganti
Manisha Kodavatiganti is senior at Hershey whose mother and father both work in the medical field. Her mom is a private practice pediatric cardiologist, and her dad is a cardiac anesthesiologist at the Children's Hospital of Philadelphia (CHOP). 
Kodavatiganti's mom sees patients at home through telemedicine.  Her dad has been staying in Philadelphia for the past month to reduce the spread "in case he would be an asymptomatic carrier," Kodavatiganti said, "We're trying to do everything we can to flatten the curve and keep the virus from spreading." 
Kodavatiganti also said that within her mom's private practice, there have been PPE shortages, but she was able to receive donations from patients and colleagues. 
"I'm thankful for the sacrifices they make to continue to help their patients during this time," Kodavatiganti said. 
Kate LaCoe
Junior Kate LaCoe's father is an administrator at the Penn State Hershey Medical Center. He has been working on telehealth for online COVID-19 screenings. 
Lacoe's brother is home from college. "No one's allowed to leave the house unless it's for the grocery store or something essential," LaCoe said. 
LaCoe's father has also been working from home as much as he can, and he is not in contact with COVID-19 patients.  
"I still worry for his health and my family's," LaCoe said. 
Bella Maish
Freshman Bella Maish's father works as Chief of Adult Reconstruction at Geisinger Medical Center. 
Maish said that her family has had to be under a certain mindset recently  "Everyday I say goodbye to my dad knowing the risk he may get quarantined at the hospital for weeks at a time," Maish said. 
Maish's family has been taking many new precautions, such as not greeting or hugging her father until he changes clothes and showers after coming home from the hospital and using hand sanitizer and washing hands has become a huge part of their daily routine. 
"I have tried to stay optimistic and know how lucky we are to have such a great health system," Maish said. 
Anna and Lauren Rodgers
Sisters Anna (sophomore) and Lauren (senior) Rodgers' dad is an Emergency Medicine Physician at the Penn State Hershey Medical Center. The Rodgers said their father has spent up to 30 hours at the hospital before coming home. 
"Our dad showers at work after his shift, changes into a clean outfit at work, then comes home changes and showers again," Rodgers said. 
Dr. Rodgers tried to keep his distance and not come home, but it ended up being too difficult for the family, so now they are taking these extra precautions in order for him to come home. 
"He has put his life on the table for the safety of others," the Rodger sisters said. 
Kate Sinz
Kate Sinz is a 2019 HHS graduate who now attends the University of Vermont. Her mother, Lisa Sinz, is an Anesthesiologist at the Penn State Hershey Medical Center. 
Sinz said her family's living situation has changed a lot. Her mother has had "an increase in workload as she is still doing everything she usually does, but she is doing more patient care work as well as training her peers on properly putting on protective gear and communicating with other hospitals around the world to identify the most productive methods of handling the large increase in patients," Sinz said. 
Once Sinz's mother began working in the Intensive Care Unit (ICU), she sent Kate, her sister, and her dad to their lake house to protect them from anything she could become exposed to. 
"My mom has been issued only one mask that she can use until Pennsylvania can access more," Sinz said, "she's upset that she can't be with her family right now, but she's trying to stay positive and aware of how other people are having a much tougher time than we are."
About the Writer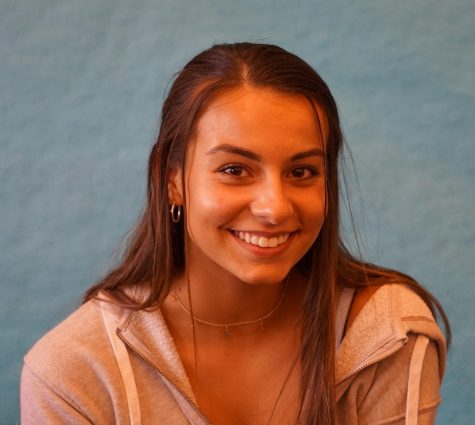 Claire Sheppard, Feature Editor
Claire Sheppard is the Feature Editor for The Broadcaster. She is a senior, and this is her third year writing for The Broadcaster. She enjoys iced coffee,...