Behind the Fashion Choices of Hershey High School Teachers
Hershey High School (HHS) requires teachers to dress in a professional and appropriate way, but that doesn't stop them from having their own individual styles. 
"Growing up I watched a lot of old movies with my mom and seeing womens fashion from the late 50s, 60s, and 70s really inspires a lot of my purchases," said Kimberly West, an English teacher at HHS. 
With her fashion inspirations Audrey Hepburn & Grace Kelly in mind, West loves to wear midi dresses, floral prints, and the color black. Midi dresses are a classic style that are a formal look for school, and black never goes out of style– that's why she loves to wear it.
"I just like the look of bow ties, I think they fit my desired aesthetic," said English teacher Christopher Boggess.
Boggess started wearing bow ties in college because they were more practical for him than normal ties. When his teacher career started the bow tie became his staple piece. On the other hand, Boggess hates pleated pants and would describe his style as a wannabe hipster.
"I have a bit of an obsession with the royal family, so I always look at what the duchesses are wearing," said Spanish teacher Meghan MacNicol.
MacNicol considers herself to have a classic & traditional style. She loves how the styles were in the 50s and 60s and prefers to dress for comfort. Jackie Kennedy is her style icon at the moment.
When MacNicol first started teaching at Hershey, some of her colleagues told her not to wear the same outfit in a two week period, or students would start to notice. She doesn't know if this rule still applies, but she still tries her best to follow it.
Another HHS Spanish teacher Kaitlyn Kulesa said,  "I try to balance being stylish & trendy, but do it while staying professional."
Kulesa is pregnant at the moment which has caused her style to change. Comfort is priority when it comes to her outfits. Since pants are very limiting with her baby bump, she bought four pairs of her favorite black jeans that she rotates throughout the week. 
When it comes to Kulesa's favorite looks, she loves to wear bright colors like pink and she likes to match her glasses with her outfits. Her fashion inspirations are fellow teachers West and Erin Ives.
"I will be very blunt with you, I don't really have a fashion sense," said Health and Physical Education teacher Jessica Interi. She describes what she wears as athletic & comfortable. Interi picks out her outfits the night before school and irons all of her t-shirts.
Being a Physical Education teacher, Interi has a different dress code than other teachers in the school have. But that doesn't mean she never dresses up. Sometimes though she feels as if she looks weird when she has to dress up since she wears athletic clothing for her job everyday. For example, if she goes out to dinner in a nice pair of jeans and boots she thinks she looks nice, but just isn't used to dressing in that style. 
Fashion may not be every HHS teachers' first priority, but they still find the time to make outfit choices that express their personal styles. 
About the Writer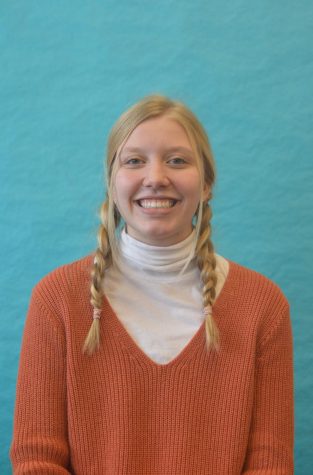 Ashlyn Weidman, Social Media Editor
Ashyn Weidman is the Social Media Editor for the Broadcaster. This is her second year writing for the Broadcaster. She is a Junior who enjoys cheering,...