Review: Amazon's Jack Ryan Second Season Sizzles
The hit Amazon series, Jack Ryan, has officially returned with the airing of season two on November first. The new series attempts to follow in the footsteps of the successful action-packed first season which captivated many viewers.
Jack, played by John Krasinski, tracks a suspicious shipment from the South China Sea to Venezuela.  Jack believes that the shipment contains illegal arms destined for Venezuelan President Reyes played by Jordi Mollà. While in Venezuela, Ryan is aided by his friend and CIA agent Jim Greer, played by Wendell Pierce. 
Krasinski is well known for his role in satirical series The Office, but he is also famous for his role in 13 Hours, a military movie based on the secret soldiers of Benghazi. 
A total of five actors have been cast as Jack Ryan to portray him within the film series. Alec Baldwin was the first to be cast as Ryan in 1990. In 1992 Harrison Ford then assumed the role of Ryan from Baldwin until 1994 until it was then taken by Ben Affleck in 2002. Krasinski is the latest actor of Jack Ryan, and has been since 2018.
In the first season of Jack Ryan, Ryan is a desk-bound analyst who finds himself fighting for his life after a mission goes wrong. The first season was action-packed with CIA interrogations, attacks on terrorists, drone attacks, explosions, and much more.
The first season of Jack Ryan cost a total of $8 million per episode. Also according to The Observer, Amazon invested over $60 million in the Jack Ryan TV reboot.
Before the hit Amazon series came to be Jack Ryan was famous for his previous roles in Tom Clancy's novels like The Hunt for Red October, The Cardinal of The Kremlin, and Red Rabbit.
Ryan's character also is notable for his early roles in the films Clear and Present Danger, The Sum of All Fears, and lastly Jack Ryan Shadow Recruit.
The Jack Ryan season was filmed in multiple locations, but mostly in Bogota, Colombia and took five months.
The sequel also differs from the action seen in season one since it shows us a Venezuelan Presidential election campaign between current President Reyes and his running mate Gloria Bonalde, played by Cristina Umaña. 
In season two, there are action scenes that include all the elements you would expect from this series such as shootouts, boat chases, raids in the jungle, political tensions, and so much more.
Unlike in the first season while stationed in Venezuela Jack and his team come in contact with a secretive agent played by Noomi Rapace.
This new season of Jack Ryan lives up to the high expectations set by its previous season. There never tends to be a dull moment as Jack always seems to be investigating a new lead or political tensions continue to rise.
Just when you think you have put two and two together throughout the series, new evidence always seems to be presented which keeps the viewers guessing. The new season also does a fantastic job of linking the subplots to the main plot, which ultimately creates a fantastic domino effect.
Although season two was an ultimate success in meeting the expectations set by the first season, it was missing a key aspect that the first season excelled at which was being realistic.
Jack's emotions throughout this series lead him to pursue actions he would never dare follow through on in the first series, as he held a very high moral standard of his job and what it entailed.
These very actions he commits in the new season would land him in so much trouble on so many levels, and ultimately would more than likely result in him losing his job. Therefore, it makes sense as to why some viewers may find this season unrealistic and potentially favor season one over season two.
Another aspect that may seem far-fetched for some viewers is the fact that Jack is always somehow able to escape extremely dangerous situations unscathed most times. 
Tom Clancy's "Clear and Present Danger", which in some aspects has a similar storyline to the new Jack Ryan season casts a very different Jack Ryan. Ryan in Clear and Present Danger showcases more of a strategic approach to the mission while in Amazon's season two Jack Ryan has a more tactical and daring approach in the mission.
This theme is also present within Tom Clancy's "The Hunt for Red October". Jack Ryan is also presented as a strategic agent who does not attempt a combat approach, but rather yet again intelligent approach. 
Through the years the viewers have seen the personality of Jack Ryan change throughout Clancy's Novels as well as his films. Viewers have witnessed Ryan's transformation from strategic approaches to more militaristic approaches.
The Jack Ryan series is tailored to an audience with a love for adventure, political tensions, and the enjoyment of government technology. The series is also perfect for any viewer with a resounding sense of American pride.
The series is intended for a mature adult audience, as it is gory in numerous aspects and also has frequent usage of expletives that would not be appropriate for a younger audience.
The Jack Ryan film series have an unadjusted worldwide gross revenue of $788.4 million to date, making it the 57th highest-grossing film series.
Viewers can watch the Jack Ryan series via Amazon Prime. Both seasons consist of eight episodes in total which typically span the length of approximately 45 minutes.
This high-flying action series from Amazon is definitely worth getting Prime for.
About the Writer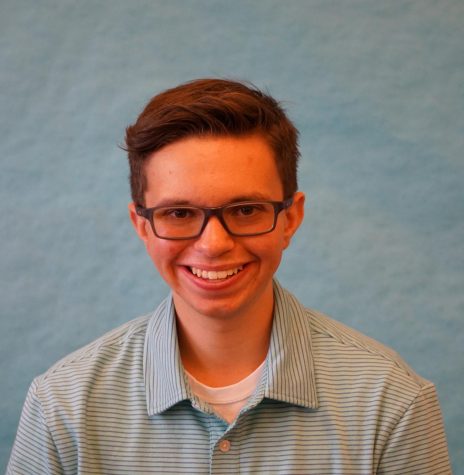 Joshua Gearhart, Reporter
Joshua Gearhart is a reporter for the broadcaster. This is his second year on the staff. He plays ice hockey for the Hershey Jr. Bears, and enjoys playing...