From Small Town Hershey to Sports Business Stardom
All it took was a book from Hershey High School's library to kick off a legendary career.
The Hershey native, Ernie Accorsi, made his claim to fame in the front office with multiple NFL teams, but he is most famous for his success with the New York Football Giants.
Ernie Accorsi was inspired by a book titled "Branch Rickey: American in Action" written by Arthur Mann, and this book inspired him to pursue his dream. Decades later and lots of hard work Accorsi found himself as the General Manager of the New York Football Giants.
Branch Rickey was the General manager who signed Jackie Robinson, and as a result broke the color barrier within the sport of baseball. Rickey's book and personal story fascinated Accorsi as a sophomore who realized he was an average baseball player.
"At that point on I could evaluate myself since I realized I wasn't going to be a center fielder for the New York Yankees," Accorsi said, "and I really kind of geared away to be a general manager."
Accorsi was a Graduate from Hershey High School in the class of 1959. Accorsi was an absolute baseball fanatic. Accorsi played baseball all the way from little league, teener, to American Legion.
After Accorsi graduated from Hershey High, he then attended Wake Forest University. Accorsi knew the only way to get in as a General Manager was to start out as a sports journalist. 
While at the University of Wake Forest, Accorsi served as the chief sports columnist for the university newspaper. Accorsi commented, "In those days, the only way to break into consideration for an office job in sports was to be a media member." Therefore, after Accorsi graduated from Wake Forest with a Bachelor of Arts degree in 1963, he started applying for newspapers.
Accorsi got his start in the pro sports world as a sports journalist for the Charlotte News, and later wrote for the Baltimore Sun and the Philadelphia Inquirer. 
Accorsi then changed course and moved to work at the athletic department at San Jose. He later served as Penn State's Assistant Sports Publicity Director in the late 1960s. 
In 1970 Accorsi broke into the NFL as the public relations director with the Baltimore Colts. By 1982, Accorsi worked his way through the ranks to become the new general manager of the Colts. 
Due to the Colts finishing with an overall record of 0-8-1 in the shortened 1982 season Accorsi made no mistake in drafting the Stanford quarterback standout, John Elway. Elway refused to play for Baltimore which ultimately forced Accorsi to trade Elway to the Broncos. The Colts finished 7-9 in the 1983 season, but that would be their last season in Baltimore, and Accorsi resigned as the General Manager before the team relocated to Indianapolis.
Accorsi found a new General Manager position in Cleveland shortly after his resignation from Baltimore. The first thing Accorsi did when he took over as the Browns General Manager was draft quarterback, Bernie Kosar. Accorsi believed that a shot at achieving an NFL championship was bleak without a standout quarterback. 
Kosar took the Browns to five straight playoff appearances and lead them to 3 AFC Championship games while Accorsi was at the helm. 
By 1994 Accorsi was in the big apple as an Assistant General Manager for the New York Football Giants, and he was able to work beside the legendary GM, George Young. While Accorsi was under the wing of George Young, he signed former standout Penn State quarterback, Kerry Collins.
In the 2000 season, Collins lead the Giants to a 12-4 season, and the Giants represented the NFC Conference in Super Bowl XXXV. After a disappointing loss in the Super Bowl, Accorsi concluded in 2002 that they had to consider a trade for a better quarterback. Accorsi had already scouted a young Eli Manning, as he believed he may come out early as a junior.
The 2004 NFL Draft had three elite quarterbacks on the board — Ben Roethlisburger, Eli Manning, and Phillip Rivers. Accorsi said, "I went to all their workouts, studied all their games, and concluded we had Eli ranked first and Ben ranked second."
When draft night came, the odds were in Accorsi's favor. San Diego picked Eli; however, Eli's agent made a statement on his behalf that Eli would rather not play in San Diego. San Diego than called Accorsi, and the two sides worked out a deal which ultimately sent Eli to New York.
Eli has won two Super Bowls with the Giants, and both times Eli won Most Valuable Player.
As Eli has continued to age year after year and his overall abilities have diminished, the Giants selected Quarterback Daniel Jones in the 2019 NFL draft. 
"The passing of the torch is going to occur," said Accorsi, "The Giants felt like they didn't have a worthy successor of Eli until they drafted Jones this year, and I knew it was only a matter of time."
Eli Manning was the last player Accorsi acquired in the NFL before his retirement in 2007. 
Throughout Accorsi's career, his teams won two Super Bowl teams, appeared in six divisional championships.  His teams appeared in the playoffs nine times teams and five teams made it to conference championships.
Throughout all of Accorsi's success as a GM, he remains loyal to his humble beginnings here in Hershey. Accorsi reflected, "It's been 60 years since I graduated, but I always went to the football games when I was back in Hershey," said Accorsi, "I always wanted to know what the score was, especially against Milton Hershey. I'm very proud to be a graduate from Hershey High School."
About the Writer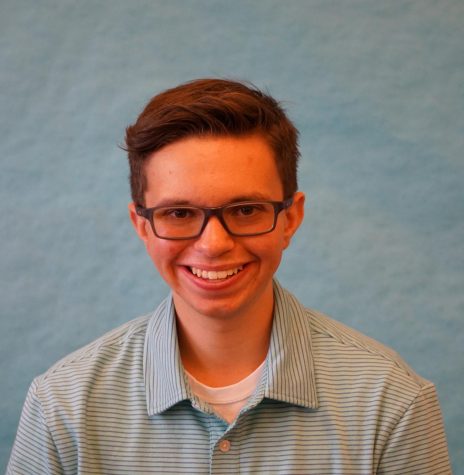 Joshua Gearhart, Reporter
Joshua Gearhart is a reporter for the broadcaster. This is his second year on the staff. He plays ice hockey for the Hershey Jr. Bears, and enjoys playing...